Quick
Midday Meals
Keeping your energy up throughout the day can be a challenge when you are busy at work or school or with the kids. Suddenly you look up, it is 2:00 pm and you are starving. It is easy to grab the first edible thing you see, which is often high-calorie chips, cookies or sugary drinks. But, if you follow these healthy lunch and midday snack tips, you can avoid losing control of what you eat in the afternoon.
(page 3 of 7)
5. Pack lunch like mom used to make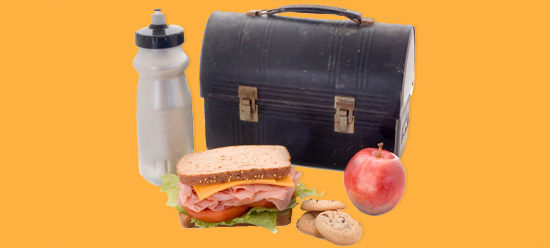 Pack your lunch sack with a main course, like a sandwich or thermos of soup, a "crunchy" (like carrot sticks or baked chips), a drink, such as water, milk, or juice, and a low-fat dessert or a small square of dark chocolate. A well-balanced meal will leave you feeling more satisfied throughout the afternoon and, even better, give you the opportunity to enjoy a bit of childhood nostalgia.
6. Don't forget about portion size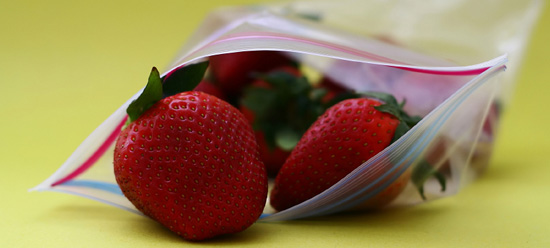 Use resealable snack bags (6-1/2-inch by 3-1/4-inch) for perfect portions of healthy snacks. Use resealable sandwich bags (6-1/2-inch by 5-7/8-inch) for your sandwich. Not only are bags handy to tote your meals, they also let you know if your portions are too big.
Here are few other healthy portion control measures:
1 (3-ounce) serving of meat, poultry, or fish = Deck of playing cards
1 ounce cheese = Size of your thumb
1 (2-tablespoon) serving peanut butter = Ping pong ball
1 (1-ounce) serving nuts = Small handful (cup your hand)
1 (1/2-cup) serving pasta = Size of your tightly closed fist
1 (2-tablespoon) serving salad dressing = Shot glass