Is He As Nice As He Seems?
If he says "I'm a nice guy," odds are he's not. Real nice guys don't have to make the declaration. Read on to find out how other women define jerk.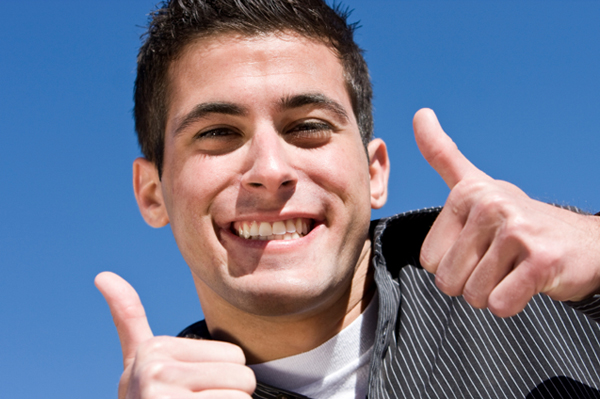 Spotting jerks in the dating pool is like a beginner's session of Where's Waldo. Losers may not come in red and white stripes, goofy hats, and nerdy glasses, but their cheesy attitude, fake charm, and lame lifestyle make them way easier to spot than a tranny in a nightclub.So why is it that in pinpointing these assholes in broad daylight, I sometimes see girls attached to their biceps? Seriously, arm candy, did your momma not teach you anything?Lesson 1: If he says, "I'm a nice guy," he's probably the total opposite. More often than not, jerks will take preventative measures to hide their inner mean. For the actual nice guy, the thought of saying this phrase doesn't even cross his mind. The real-life sweetheart merely owns his niceness and doesn't realize the need to justify who he is.There's more help on the way. These wise women dish on the other clues that he's not Mr. Right. 
What's with the shirt?
Bonnie, a 22-year-old from New York, NY, estimates the jerk factor by examining aesthetics. "Oh easy one — jerks wear white button-down shirts with blue pinstripes, (most likely) with the first three buttons undone and chest hair poking out," the student and waitress points out. "I avoid these men at all cost."
Don't Call Me "Hun"
When we asked print investment supervisor Ilyse how she spots jerks, she answers: Any guy that calls you 'babe,' 'honey,' or any other term of endearment upon first meeting. "It's creepy, weird and totally crosses a line that is only acceptable post-coital, if ever," she points out.
Man to servers
Ilyse also believes you can judge a man by the way he treats the wait staff. "If he's rude to them, he's probably offensive in other facts of life," she reveals. "Nothing's worse than a first date with a guy who yells at your waitress because she didn't give him enough vodka in his martini."
Beefcakes and egos
Roller derby princess Lori strongly advises all respecting females to never date bouncers or men who are addicted to fostering and maintaining huge muscles. "They're probably jerks because they think they're God's gifts," she explains. "They love their bodies and themselves way too much. Plus, they look stupid, too."
If he's iffy…
For Jennifer, a freelance writer and self-proclaimed cynic, the number one sign of jerk is the inability to commit. "Not necessarily in a relationship, but even with just hanging out," she explains. "He'd say something like, 'uh yeah, not sure what I'm doing Saturday yet, but I'll call you,' and then he never does."
The cheap factor
After digging into her bad-date archives, Diane, a marketing superwoman, spots the jerk extraordinaire. "He asked me to pay all the time because I made more money than he did," she recalls. "He also refused to spend any money on heating his apartment!" Ladies, find a man who's established, not to mention, giving. If he's skimping on necessities like utilities and asking you to shell out money for every date, he's jerk status.