The Skinny
On Low-Fat Cheese
If you're trying to lose a few pounds this summer but don't want to feel deprived, try sinking your teeth into these six healthy cheeses which may actually help you feel better, physically and mentally. Studies show that the calcium and protein in cheese can help you lose weight and be in a better mood. With the following delicious low-fat varieties, you will definitely not feel like you are on a diet.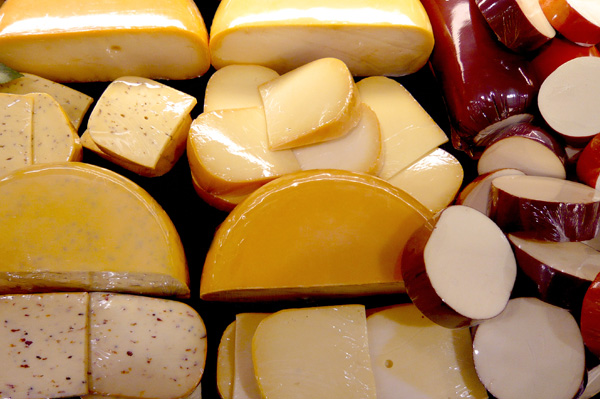 Delicious and Nutritious Low-fat Cheeses
1. Jarlsberg Lite
This Swiss-style cheese is perfect as a substitute for deli-sliced cheese on sandwiches and burgers.
1 ounce:
70 calories, 4g fat, 2g saturated fat, 9g protein
2. Boursin Light
Spreadable garlic cheese that tastes superb on crackers, toasted bread, or sliced apples.
1-2/3 tablespoon:
40 calories, 2.5g fat, 1.5g saturated fat, 3.4g protein
3. Sargento Reduced-Fat Provolone
Classic Italian cheese with very little fat.
1 slice:
50 calories, 3.5g fat, 2g saturated fat, 5g protein
4. Mini Babybel Light
A perfect one-bite snack, this creamy and delicious cheese pairs perfectly with fruit and nuts.
1 piece:
50 calories, 3g fat, 1.5g saturated fat, 6g protein
5. Treasure Cave Reduced-Fat Crumbled Blue Cheese
Tangy cheese with half the fat of regular blue cheese. Perfect to sprinkle on salads or burgers.
1/4 cup:
80 calories, 5g fat, 3.5g saturated fat, 7g protein
6. Trader Joe's Fat-Free Feta
Pungent and creamy feta crumbles that taste great over a spinach salad or melted on pizza.
1 ounce:
35 calories, 0g fat, 1.5g saturated fat, 3.4g protein
Related Articles:

Eco-friendly recipes featuring eco-friendly cheese
Is cheese safe to eat during pregnancy?

Homemade 100 calorie snacks