Ramps Are
A Spring Delicacy
What is a ramp and what dishes can you make with them? These leafy topped vegetables, also known as wild leeks, have bottoms that resemble scallions. The ramps season is April and May and, because they are not readily available all year round or available everywhere, they are considered spring delicacies. Ramps seasonally grace the menus at gourmet establishments and, though they are making their way into supermarkets, you may have to substitute scallions or leeks for the following spring recipes. Ramps have a strong flavor similar to garlic and onions, and when mixed into a quiche, frittata, or with pasta, they add a delectable flavor that you won't soon forget.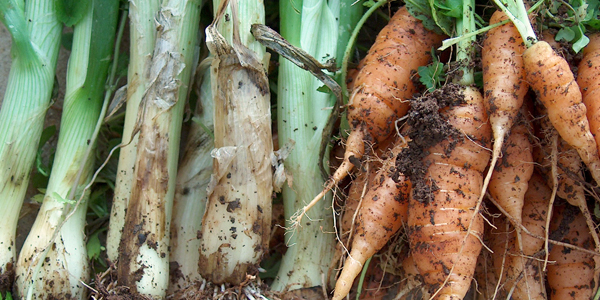 Spring Recipes
Ramp and Bacon Frittata
Makes 6 to 8 servings
Ingredients:

4 slices of bacon, diced
1/4 cup diced onion
1 cup chopped ramps (or substitute leeks or scallions)
3 thick slices of bread, cut into cubes
7 eggs
3/4 cup skim milk
2 teaspoons Dijon mustard
Salt and pepper to taste
3 tablespoons grated Parmesan cheese
Directions:

1. Crisp bacon in a large frying pan over medium-high heat for 4 minutes. Mix in onions and ramps and cook 3 to 5 minutes. Take pan off of heat and add bread.
2. Whisk together eggs, milk, mustard, salt and pepper. Pour egg mixture over bread and heat over medium-high heat for 5 to 8 minutes or until almost cooked through.
3. Sprinkle cheese on top and place under a preheated broiler for 1 to 2 minutes or until cooked and golden brown. Serve warm.
Ramp and Shallot Pesto
Makes 6 servings
Ingredients:

20 to 25 ramps
1 teaspoon finely grated lemon zest
Salt and pepper
1/3 cup extra-virgin olive oil
6 shallots
1/4 pine nuts
1 pound spaghetti or pasta of your choice
1/4 cup grated Parmesan cheese
Directions:

1. Trim roots off ramps. Place ramps in a pot of boiling salted water for 5 to 10 seconds. Remove ramps from water with a slotted spoon, pat dry, and chop. Combine ramps with lemon zest, salt, and pepper in a blender.
2. Cook pasta in boiling water, following package directions. Add about 1/2 pasta water to blender.
3. Sauté shallots in oil for 5 minutes. Let cool for a few seconds then add to the blender with the pine nuts. Blend until smooth, adding more pasta water to thin out if necessary.
4. Drain pasta and place back in pot. Mix in pesto and heat, stirring to coat. Top with cheese and serve.
Ramps and Potatoes
Makes 4 to 6 servings
Ingredients:

4 cups ramps, cleaned, sliced into 1-inch pieces
3 to 4 medium potatoes, peeled, sliced
3 tablespoons bacon drippings
Salt and pepper to taste
Directions:

In a large skillet over medium-high heat, sauté ramps and potatoes in bacon drippings until tender. Season with salt and pepper to taste. Serve with biscuits.
If ramps are unavailable in your area, visit
EarthyDelights
for purchasing information.
For more spring recipes, check out these links:

Rachael Ray recipes with asparagus

A passion for vegetables

How to eat an artichoke