Become A
Master Griller
With summer quickly approaching, outdoor grilling is always a fun option for quick family dinners or all day parties with friends. Either way, mastering your grilling technique can be a challenge. Worry no more! Follow these 10 tips and tricks and you will always have the perfect burger, steak or chicken.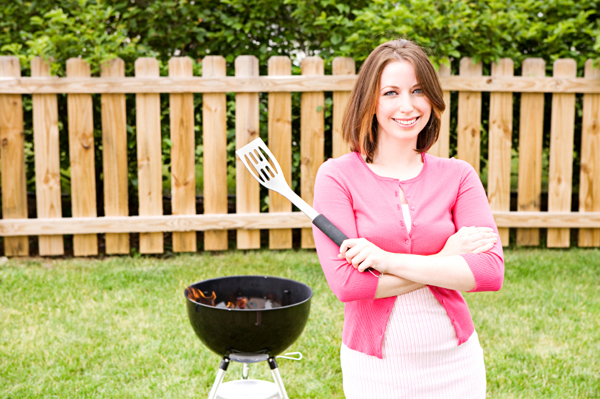 1. Before Grilling, Simplicity Rules
If you purchase quality meats and ultra-fresh veggies, brushing your meat or vegetable with olive oil and seasoning with salt and pepper is just about all you need. You don't want to mask the great grilled flavor of your meats and veggies with heavy marinades and sauces.
2. Use Two Heat Levels
When grilling, keep one side heated at high and one side heated at low so you can quickly transfer food and have flexibility in your needed heat levels. You can sear foods quickly on the high side then move to the low side to cook all the way through.
3. Shut the Lid
Be sure to keep the lid closed when you are preheating the grill and if you are grilling foods slow and on low heat.
4. Don't Touch the Food
Let your food sit on the grill for at least two or three minutes before flipping it. This will allow for nice grill marks and no sticking. When you do flip it, use tongs and never a fork. Piercing any food will cause the succulent juices to run out.
5. Indirect versus Direct Grilling
Use indirect heat when grilling delicate items and larger meats that have longer cooking times. Be sure to always have the lid closed when using indirect grilling methods.
Indirect grilling:
To use indirect grilling on a gas grill, place a drip pan on the coals on one side of the grill and fill with about a 1/2-inch of water. Preheat the other side on high for five to ten minutes. Lower the temperature to medium and place the food on the rack over the drip pan and cover.
Direct grilling:
Direct grilling is when the food is placed directly over the hot coals, which is perfect for meats with short cooking times such as chicken or steak.
6. Watch the Grill
Never walk away and leave food cooking on the grill. Food can easily burn and flare-ups can quickly turn into fires.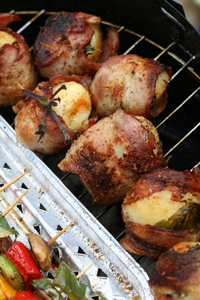 7. Sugary Sauces Can Cause Burning
If you do decide to use a sweet sauce or marinade, be careful if it drips into the coals – sugary liquids can cause flare-ups which can ultimately burn your grilled goodies. If possible, only coat foods with sauces in the final 10 minutes of grilling.
8. Use a Thermometer
The best way to determine doneness is to use a thermometer. Most recipes will give you a range of temperatures to decide when your meat is done. If not, any cut of beef should be cooked to an internal temperature of at least 145 degrees F.; poultry to 180 degrees F.; and pork to 160 degrees F.
9. Clean the Grill When Done
Be sure to thoroughly clean the grill for easy set up the next time you grill. Check the coals to make sure they are not too ashy, greasy or broken up. Follow the manufacturer's instructions on your grill to change the coals. When you are finished cooking, turn the grill to high and heat for five minutes. This will help burn off any grease or drippings. Then turn off the grill and let cool and you are ready to go.
10. After Grilling, More is More
If you have only seasoned your food with oil, salt and pepper, be sure to create fun condiments, relishes, and sauces to accompany your grilled food. Fruit relishes and sauces are always a nice summer addition. Fresh side-dishes like coleslaw and potato salads are especially wonderful, too.
For more information about grilling and great grilled recipes, check out these links:

Gifts for the grilling gourmet
Grilled vegetables can simplify summer meals

Grilled Ragin' Cajun Stir-Fry

Create a great outdoor space