Yummy Soup Isn't
Just For Winter
Just because the weather is heating up, it doesn't mean you can't enjoy soup. Soup is a staple in the winter, but most people don't have soup once spring begins. Chilled soups are delicious alternatives to traditional hot soups and can be eaten throughout the summer.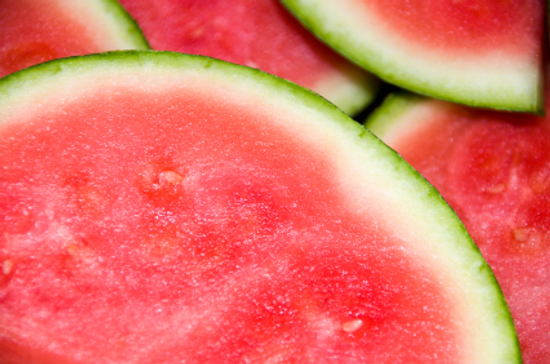 This fabulous chilled watermelon soup recipe was provided by Red Mountain Spa. Enjoy this soup recipe throughout the spring and summer, when watermelon is its best.


Ingredients
6 1/2 cups seedless watermelon
1 1/4 cups unsweetened apple juice
1/4 cup fresh cilantro, minced
1/4 cup coconut milk, skimmed
1/2 cup agave syrup
1 teaspoon cornstarch
Directions
Bring 1 cup apple juice to a rolling boil.
Add corn starch to 1/4 cup cold apple juice till smooth and creamy (no lumps).
Whisk in corn starch slurry to boiling apple juice (apple juice will become very thick).
Chill to below 40 degrees.
Purée watermelon, pour into strainer and use a rubber spatula to press the pulp through (discard small seeds that will be left).
Place all ingredients in blender and mix well.
Yield: About 1 quart
Servings: 8
Serving Size: 1/2 cup

Hint: Fine mince 1 fresh seeded jalapeno, sprinkle on top of soup for garnish.


Nutrition Information
(single serving)
Calories: 103
Net Carbs: 17
Protein: 1g
Fat: 4g
Saturated Fat: 3g
Cholesterol: 0
Sodium: 7mg
Fiber: 1
NC-P-F Ratio: 62-4-34
Summer recipes