Cool
Kiwi Recipes
Kiwifruit is a deliciously healthy, always in season fruit that can add dazzle to your ordinary everyday meals. Top off breakfast, lunch or dinner with kiwis or eat them as a snack. They have minimal fat and are low in calories and bursting with nutrition and taste. These simple kiwi recipes will liven up your meals and enliven your day.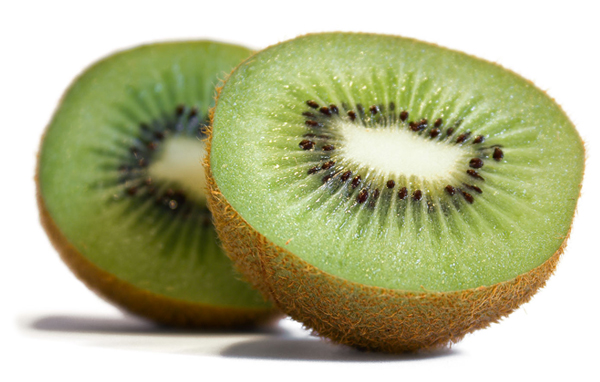 When kiwis first hit the supermarket, they were considered an exotic fruit. Their juicy green flesh and sweet-tart taste moved them into the mainstream and, now, they are well-recognized and adored for their versatility and their presentation appeal. Kiwifruit is a fun, vitamin packed treat you can slip into your family's lunch totes or slice and dice to liven up both savory and sweet dishes -- ideal for every meal.
Selecting Kiwi
When looking for the perfect kiwi in the market, choose fruit with unblemished and unwrinkled skin. Size does not matter – large or small, kiwis will taste the same. Depending on when you want to eat the kiwi, fruit should be firm to slightly soft. The softer the fruit, the riper it is, but be warned that mushy could mean it is too ripe.
Storing Kiwi
Very firm kiwis can be ripened for a few days at room temperature. You can hasten ripening by placing kiwi in a vented plastic bag at room temperature with a banana or apple. Kiwis can be stored in the refrigerator for up to four weeks or at room temperature for a few days.
Preparing Kiwi
To prepare kiwi for consumption, you can either slice them and peel the skin off or simply slice off one end and eat with a spoon. Though furry and usually not eaten, the skin is packed with tons of nutrients – if desired, you can wash the fruit and just take a bite. Baby kiwis are also available and can be eaten like grapes, no peeling needed.
Kiwi Serving Suggestions
Kiwis make great toppers for salads, sandwiches, bagels, cereal, pancakes, waffles, yogurt or even chicken, fish or meat. They also work as an extraordinary substitute for tomatoes.
Kiwis are great meat tenderizers because of an enzyme found in the fruit. To make a marinade, peel kiwi and crush the flesh with seasonings of your choice. Marinate poultry, seafood or beef in the fruit for about 30 minutes for tender and tasty results.
Kiwi is a Super Food
Kiwis are considered a
superfood
because they are extremely rich in vitamin C (containing twice the amount of an orange), vitamin E, fiber, potassium, magnesium, copper and phosphate. They are also low in calories (only 45 per fruit) and contain no fat.
Kiwi Recipes
All recipes courtesy of the California Kiwifruit Commission
Kiwifruit Sweet Omelet
Makes 4 servings
Ingredients:

3 to 4 kiwifruit, peeled, sliced
Powdered sugar
Ground cinnamon
4 eggs, separated
1/8 teaspoon salt
1/2 teaspoon grated lemon peel
2 tablespoons butter or margarine
Directions:

1. Sprinkle kiwifruit with 1 or 2 tablespoons powdered sugar and a dash of cinnamon in shallow dish. Let stand 20 minutes, turning occasionally.
2. Beat egg whites and salt until soft peaks form. Gradually add 2 tablespoons powdered sugar and beat until stiff.
3. Beat egg yolks until thick, add lemon peel and fold into whites.
4. Heat butter in 10-inch over-proof skillet. Stir in 1 tablespoon powdered sugar and a dash of cinnamon. Pour in egg mixture. Cook over medium heat 3 to 5 minutes or until eggs are puffed and set and bottom is golden brown.
5. Bake at 325 degrees F. for 10 minutes or until knife inserted near center comes out clean. Loosen edge of omelet. Make a shallow cut, slightly off center, through top of omelet. Arrange kiwifruit mixture over larger section. Fold smaller portion over kiwifruit. Serve immediately on a warm platter. Sprinkle with powdered sugar.
Brie Glazed with Cranberries and Kiwifruit
Makes 12 servings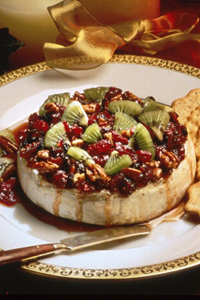 Ingredients:

1/2 cup dried cranberries
2 tablespoons currants
3 tablespoons dark brown sugar
1/8 teaspoon cloves, ground
1/2 teaspoon minced fresh ginger root
1/4 teaspoon allspice, ground
1/4 teaspoon dry mustard
1/4 cup plus 2 tablespoons water
1 kiwifruit, peeled, chopped
2 tablespoons pecan pieces
1 small wheel of Brie cheese
Directions:

1. Place the cranberries, currants, brown sugar, cloves, ginger root, allspice, mustard and water in a medium saucepan. Cook gently over medium heat until the mixture comes to a boil. Reduce heat to low and simmer the mixture until the cranberries swell and the liquid thickens into a jam-like consistency, 8 to 10 minutes. Remove from heat and allow to cool completely. When cool, stir in the chopped kiwi and pecan pieces.
2. Preheat oven to 350 degrees F. and place the whole brie on a parchment-lined cookie sheet. Spread with the cooled kiwi-cranberry marmalade over the top of the Brie, coating evenly to the edges.
3. Bake for 25 to 30 minutes, or until the Brie swells. Remove from the oven and gently slide cheese onto a cheese board or plate. Serve immediately with crackers.
Kiwi Teriyaki Steak
Makes 6 servings
Ingredients:

4 kiwifruit, divided
1/4 cup dry white wine
1/4 cup soy sauce
1/4 cup packed brown sugar
1 clove garlic, minced
1 teaspoon grated fresh ginger root
1 tablespoon vegetable oil (optional)
1 1/2 to 2 pounds (1-inch thick) boneless round steak
Directions:

1. Peel and puree 2 kiwifruit. Combine with wine, soy sauce, brown sugar, garlic, ginger and oil in large baking dish. Add steak and marinate for 30 minutes.
2. Remove steak from marinade and broil to desired degree of doneness.
3. Slice steak and arrange on serving platter. Peel and slice remaining 2 kiwifruit and garnish platter with slices.