Delicious And
Nutritious Lunch
Most people have tried crab cakes, but salmon cakes are also very yummy. These cakes can be eaten as an appetizer or served with a green salad for delicious and nutritious lunch.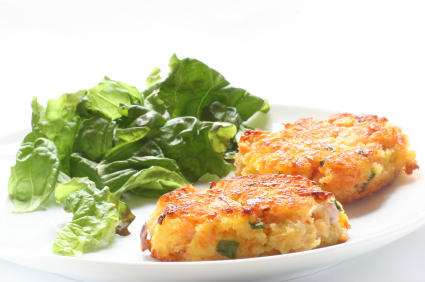 Ingredients
1 1/2 pounds baked salmon
1 large egg, beaten
1 1/2 teaspoon Dijon mustard
1 teaspoon non-fat mayonnaise
3 1/2 teaspoons extra-virgin olive oil, divided
3 medium scallions, finely chopped
1 stalk celery, diced
1 tablespoon chopped fresh parsley
2 cups fresh whole wheat breadcrumbs
1/2 teaspoon black pepper
1 lemon

Directions
Preheat oven to 450 degrees F.
Spray baking sheet with cooking spray.
In a bowl, flake salmon with a fork to remove any skin and bones.
Add egg, mustard and mayonnaise to salmon and mix well.
Heat 1 1/2 teaspoons of oil in a large skillet over medium-high heat.
Add celery and scallions and cook until softened (about 3-4 minutes).
Stir in parsley and remove from heat.
Add onion mixture to salmon and mix well.
Add breadcrumbs and pepper and continue mixing.
Shape into 8 patties.
Heat remaining 2 teaspoons of oil in the skillet over medium heat.
Add four patties and cook 2-3 minutes on each side.
Remove from pan and place on baking sheet.
Repeat with remaining four patties.
Bake the salmon cakes in the oven until golden brown on the top (about 15 minutes).
Serve with lemon wedges.
These salmon cakes are moist on the inside and crispy on the outside for a wonderful texture and flavor. If you are in a hurry, you can used canned salmon or albacore tuna in place of baked salmon.

Salmon is rich in Omega-3 essential fatty acids, which are an important part of a healthy diet. To encourage young children to eat salmon cakes, you can serve them in a whole wheat pita bread as sandwiches.


Salmon recipes