ONE SAVORY,
ONE SWEET
If you caught the premier episode of Season 4 Top Chef, you saw the catastrophe that was the soufflé. Two seemingly experienced chefs were given the task to create this egg classic high-rise. One choose sweet, the other savory, both failed. Is a soufflé really that difficult? It can be, but if you have the right technique paired with the right ingredients, you can easily master this often daunting dish.
Soufflés are notoriously hard to perfect, and for good reason. There is the chance of them being too dense or failing to rise – or if they do rise, falling flat before service. However, you don't need years of French training to make a perfectly delicious and presentable soufflé. Here are a few soufflé tips from Personal Chef Michele Thompson, MS to make your egg high-rise a reality.

START WITH A CLEAN MIXING BOWL
Any trace of oil can make your egg whites fall flat. Be sure to beat egg whites in an impeccable bowl. Rinse your stainless steel bowl out with water and vinegar and dry thoroughly.
YOU HAVE TO KEEP THEM SEPARATED
Carefully separate your egg yolks and egg whites. Any trace of yolk (fat) will not allow the egg whites to be beaten to their fluffy max. Use an egg separator or use the shell method by cracking the egg over a bowl and passing the yolk between the two shell halves until all the white has dropped into the bowl.
USE ROOM TEMERATURE EGGS
A good soufflé relies on the air in the beaten egg whites. Room temperature egg whites will hold more air when whipped.
USE AN ELECTRIC HAND MIXER
To optimally beat the egg whites, opt to use a hand mixer instead of whisking by hand. It is much easier and you can get the job done quicker. Make sure the beaters are impeccably clean before you start.
DO NOT DISTURB
While the soufflé is baking, do not disturb. Avoid opening the oven door unnecessarily because both noise and movement can deflate the most sturdy of soufflés. Bake the soufflé close to when it will be served and carefully bring it from oven to table before it has a chance to deflate.
FLAT SOUFFLES STILL TASTE DELICIOUS
Even if your soufflé does not become the impressive egg high-rise you had hoped, it will still taste remarkable.
RECIPES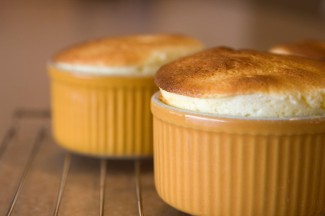 Cheese Soufflé

Makes 4 servings
Ingredients:

1 cup milk
3 tablespoons butter
1/4 cup flour
1/2 teaspoon salt
Pinch of cayenne pepper
1/4 pound Swiss cheese, shredded
4 eggs at room temperature, separated
Directions:

1. Preheat oven to 300 degrees F. and butter four individual-size ramekins.
2. In a saucepan over low heat, heat milk, taking care not to scald.
3. In a double boiler over medium heat, melt butter and add flour, salt, and cayenne. Mix in warm milk and stir until smooth and thick. Mix cheese into sauce and stir until it melts.
4. In a medium-sized mixing bowl, whisk egg yolks until frothy. Mix in about 2 tablespoons of the cheese sauce, then pour egg mixture into the rest of the cheese sauce, whisking until blended.
5. In a large clean mixing bowl, use a hand mixer to beat egg whites until stiff peaks form. Using a spatula, gently fold in cheese sauce.
6. Pour mixture evenly into 4 individual size ramekins and place ramekins on a baking sheet.
7. Bake soufflés for 1 1/4 hours, being sure not to disturb. Carefully transfer soufflés to dinner table. If any deflate, simply sprinkle extra cheese on top.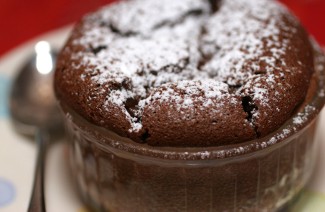 Chocolate Soufflé

Makes 4 servings
Ingredients:

1/3 cup sugar
5 ounces bittersweet chocolate (not unsweetened), chopped
3 large egg yolks at room temperature
6 large egg whites at room temperature
Powdered sugar for garnish 
Whipped cream for garnish

Directions:
1. Preheat oven to 375 degrees F.
2. Butter 4 individual size ramekins with butter and sprinkle with sugar, shaking out excess.
3. In a double boiler over medium heat, melt chocolate, stirring, until smooth. Take bowl off of heat and whisk in egg yolks until stiff.
4. In a large clean mixing bowl, combine salt with egg whites and whip using an electric hand mixer until soft peaks are made. Gradually add sugar, beating until stiff peaks are made.
5. Mix about 1 cup of the egg white mixture into the chocolate mixture, then fold the remaining chocolate mixture into egg whites.
6. Pour mixture evenly into ramekins and run your thumb around the inside edge to be sure mixture is even.
7. Bake the soufflés in the middle of the oven for 24 to 26 minutes, or until crusty on the top but jiggly in the middle. Dust with powdered sugar and serve with whipped cream on the side.
If you are in the mood for berries, try this Gluten-free Raspberry Souffle with Custard Sauce.