Almond Flour Basics
Dessert can be quite a challenge for low-carbers. Firstly, there's the sugar issue, but happily, a selection of artificial sweeteners is available. However, once you have decided on the sweetener you want to use, the next most difficult ingredient to substitute is flour -- and this is not such an easy choice.
(page 2 of 2)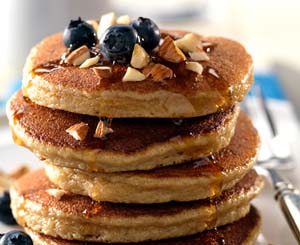 Almond Flour Apricot and Almond Cream Cake
This recipe is based on a traditional British cake called a Victoria Sandwich Cake. Victoria Sandwich Cake is a plain, or yellow, cake which is baked in two pans and then sandwiched together with whipped cream and strawberry jam. This is my version for low-carbers, which is made with canned apricots instead of jam and ground almonds instead of flour. I challenge any non low-carber to realize that it isn't a regular cake!
Ingredients:
1 cup butter (at room temperature)
2 rounded tablespoons Splenda
5 eggs (at room temperature)
2 cups ground almonds (almond flour)
1 teaspoon baking powder
1 tablespoon lemon juice
1 teaspoon vanilla extract
1 teaspoon almond extract (optional)
1/2 cup heavy cream
5 apricot halves from a can of apricots in water
Directions:
Butter and line two 8-inch round baking pans with baking paper. Preheat the oven to 350 degrees F.
Mix the first seven ingredients (plus almond extract, if using) together in a food processor until smooth.
Divide the mixture between the two baking pans, level the tops and bake for about 30 minutes until firm in the center.
Remove from the oven and leave on a cooling rack for five minutes before loosening with a knife and turning out onto the racks. Peel off the baking paper and leave to cool completely.
When cooled, whip the cream until fairly thick and "spreadable." Drain the apricots and chop into small chunks, then mix them into the whipped cream.
Turn one of the cakes upside down and spread the cream mixture over it (like buttering a piece of bread!) Place the other cake on top of the cream and press lightly to sandwich the cakes together. Serve cut into wedges. Serves 10.
Per serving (one slice): 6.2g carbohydrates; 2.4g fiber; 7.3g protein; 34.7g fat; 355 calories
Almond Flour Pancakes
If you're a low-carber, it is always a challenge to find a good recipe for pancakes, and there are many of them. This is my favorite recipe, using, of course, ground almonds (almond flour). They turn out very much like the American pancakes that I remember enjoying so much during my time living in the US, and can be served with any toppings you wish, just like regular pancakes. Blueberries, cream, lemon juice and a sprinkling of Splenda as a sweet topping is delicious, but they are also lovely when buttered and served with crispy bacon! This recipe makes approximately four pancakes.
Ingredients:
1 egg
1 cup ground almonds (almond flour)
1/2 to 1 cup of heavy cream
Pinch of salt
Butter for frying
Directions:
Whisk the egg in a measuring jug then mix in the almond flour and salt.
Add enough cream to get a good pancake batter consistency and mix well. Heat a tablespoon of butter in a small frying pan on medium high.
When the butter begins to foam, spoon about one quarter of the mixture into the center of the pan and spread out to about 4 inches diameter.
Continue to cook for a minute or so until the edges look dry, then carefully flip over and cook for another minute until set. Serve with your favorite toppings, or as the mood takes you! Serves four.
Per serving (one pancake) using 1 cup of cream: 8.75g carbohydrates; 4.25g fiber; 10.25g protein; 41g fat; 426.75 calories
You can also see a savory recipe of mine Pepperoni Pizza Pie -- which uses almond flour! I hope you enjoy these recipes and also that you will find experimentation with almond flour helpful as part of your low-carb lifestyle.