Almond Flour Basics
Dessert can be quite a challenge for low-carbers. Firstly, there's the sugar issue, but happily, a selection of artificial sweeteners is available. However, once you have decided on the sweetener you want to use, the next most difficult ingredient to substitute is flour -- and this is not such an easy choice.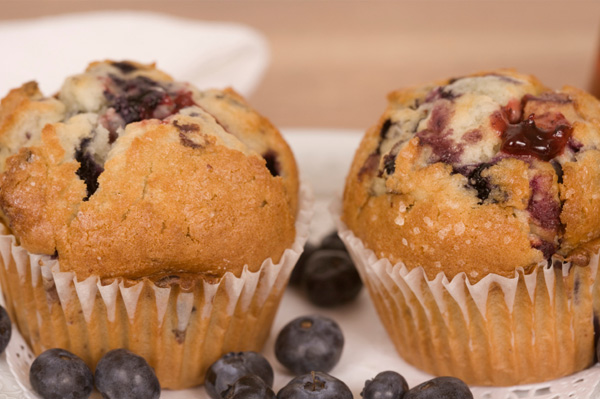 Why cook with almond flour?
Like sugar, there are several options for replacing flour, including combinations of soy or whey protein powders, ground flaxseeds and also soy flour. I prefer to use as many natural and whole ingredients in my recipes as possible. I like to use nut flours -- and almond flour (or "ground almonds," as they are known in England) works excellently in many recipes. Not only is it high in protein and low in carbs, it's a good source of omega 3 essential fatty acids, shown to be essential for brain and heart health.
How to cook with almond flour
Almond flour works very well for practically all cake and muffin recipes, pancakes and some cookie recipes, too. It can also be used to make "pastry" tart shells for sweet or savory dishes. The only types of dessert which do not lend themselves well to the use of almond flour are yeasted or bread-based recipes.
Almond flour can either be bought direct from the store ready-ground or it is possible to grind your own at home from natural almonds in a coffee grinder or similar. It doesn't even matter if you don't like almonds because, strangely enough, baked goods made with almond flour do not taste of almonds unless you deliberately add almond flavoring.
How to substitute almond flour in your recipes
To convert any regular baked recipes to low-carb using almond flour, experiment by simply replacing the volume of flour in the recipe with the same volume of almond flour. Use slightly more raising agent than the recipe suggests, allowing for the heavier weight of the almond flour.
Also be sure to butter and line your pans with baking paper to help prevent sticking. After baking, recipes made with almond flour do well to be left a few minutes and loosened carefully with a knife before turning out because the texture is generally more fragile than regular recipes made with flour. Here are a few of my favorite dessert recipes involving almond flour.
Almond Flour Blueberry Muffins
This recipe can be made with any fresh or frozen berries, and you can add as much as 1 1/2 to 2 cups of berries, if you prefer, though it will change the nutritional counts.
My particular favorite is raspberries, although they are also delicious with the more traditional blueberries. If you are using frozen berries, there is no need to defrost them -- in fact, they hold their shape better during cooking if you add them to the mixture whilst still frozen. You can also add a teaspoon of cinnamon, for variation.
Ingredients:
2 cups almond flour
3 rounded tablespoons Splenda
1 rounded teaspoon baking powder
4 eggs (at room temperature)
1/2 cup butter, melted
1/2 cup heavy cream
1 tablespoon lemon juice
1 teaspoon vanilla extract
1 cup blueberries (fresh or frozen)
Directions:
Butter and line 12 large muffin pans with muffin tin liners. Preheat the oven to 350 degrees F.
In a medium bowl, mix together the wet ingredients. In a larger bowl, mix together the dry ingredients (but not the berries). Add the wet ingredients to the dry ingredients and mix until just combined (do not beat). Finally, add the berries and briefly mix again.
Divide the mixture between the 12 muffin pans and bake for 20-25 minutes until risen, golden brown and set in the middle. Leave in the pans on a cooling rack for 5 minutes, and then loosen carefully with a knife before turning out to cool completely. Makes 12.
Per serving (one muffin): 8g carbohydrates; 3g fiber; 7.25g protein; 24.8g fat; 273 calories
>>Up Next: Almond Flour Cream Cake and Almond Flour Pancakes