Chocolate
Recipes & More
Chocolate is the food of the aristocracy, children, soldiers and lovers. Once heralded as a cure-all, advertisers now market it as a "sinful delight." It definitely lives up to its Greek botanical name -- theobroma cacao -- "food of the gods."
(page 2 of 2)
Cherry Chocolate Cake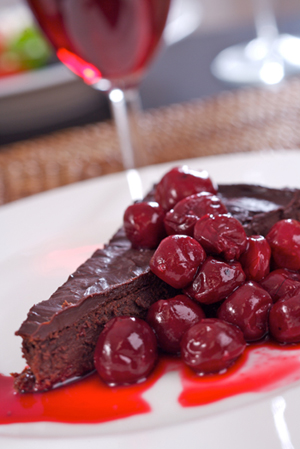 A decadent cake with a mix of chocolate and cherries in a heart shape the whole family can enjoy. Many gift, kitchen supplies and dollar stores sell heart shaped pans this time of year.
Ingredients:
1 package chocolate cake mix
4 eggs
1 package pudding crystals
1/2 cup oil
1 1/3 cup orange juice
1 can cherry pie filling
Icing:
2 cups icing sugar
1/4 cup orange juice
1/2 cup butter
Directions:
Heat oven to 375 degrees F. Mix cake mix with eggs, dry pudding crystals, oil and orange juice until smooth. Pour half the mixture into a heart shaped pan. Put 1 1/2 cups of cherry pie filling on top of mixture.
Bake the other half of the batter in a second heart shaped pan. Let both cakes cool. Mix icing sugar, orange juice and butter together. Ice cake. Decorate with the remaining cherry pie filling.
Heart-Shaped Almond Chocolate Dipped Cookies
Serve the cookies plain or with a chocolate coating. Makes a wonderful Valentine's Day gift for that special person.
Ingredients:
1/2 cup soft butter
1/3 cup icing sugar
1 egg
1 1/2 cups flour
1/2 cup ground almond flour
1 teaspoon baking powder
3 oz semi sweet chocolate melted
Directions:
Cream together butter and sugar and mix in egg. Stir in flour, ground almond flour and baking powder. Chill for 1/2 hour. Place dough on floured board or wax paper. Roll out dough till 1/4-inch thick. Cut dough with heart shaped cookie cutter. Bake at 350 degrees F for 10 minutes or until golden brown. Let cool. Melt chocolate in heavy saucepan on medium heat. Dip cookies in chocolate and let cool.