Kid-Friendly
Finger Food
Don't know what to bring to your next holiday party? Try these delicious and quick-to-make rolls and pinwheels! They are easy enough, even your kids can help out.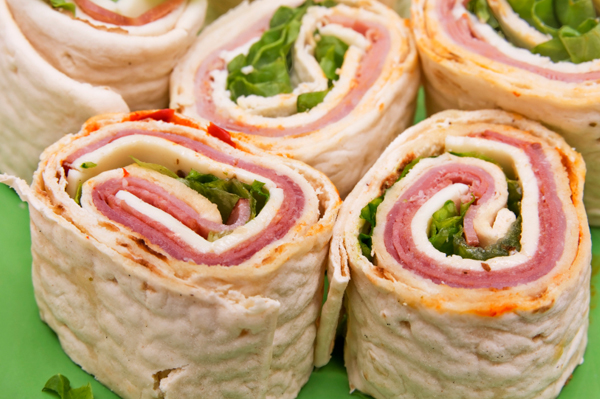 Kid-friendly kitchen fun
Ham rolls, or pinwheels as most people call them, are a steadfast tradition for many families. They are a quintessential dish at family reunions, holiday gatherings and other special occasions. And they are made even more special if kids are involved in the pinwheel making.
Pinwheels are simple to make and have hundreds of variations! If you haven't made them before, just grab a piece of ham and start rolling. Once you get the technique down, have fun teaching your kids how to do the same.
Basic Ham and Onion Pinwheels
Ingredients:
Rectangle shaped deli-sliced ham
Softened cream cheese-room temperature
Green onions with long stalks
Directions:
Spread the softened cream cheese on one side of a ham slice.
Place one of the onions vertically at one end of the ham slice. Roll the ham slice and the onion together lengthwise.
Chill the rolls in the refrigerator until the cream cheese becomes firm again.
Before serving, slice the rolls crosswise into 1-inch pieces. Place on a platter with extra green onions for garnish.
Ranch Ham and Tortilla Pinwheels
Makes three dozen rolls
Ingredients:
2 (8-ounce) packages cream cheese, softened
1 (.4-ounce) package Hidden Valley Ranch Salad Dressing Mix
2 green onions, minced
4 (12-inch) flour tortillas
1 (4-ounce) can diced green chiles or 2 fresh jalapenos, minced
1 (2.25-ounce) can sliced black olives (optional)
Directions:
Mix cream cheese, dressing mix and green onions. Spread on tortillas.
Drain chiles and olives thoroughly. Sprinkle equal amounts of either or both on top of cream cheese.
Roll tortillas tightly. Chill at least 2 hours or overnight.
Cut rolls crosswise into 1-inch pieces.
Oriental Smoked-Turkey Pinwheels
Ingredients:
4 (10-inch) flour tortillas
1/2 cup hoisin sauce, plum sauce or other oriental style sauce
1/3 cup finely chopped green onions
2 cups thinly sliced smoked turkey (about 8 ounces)
4 large leaves leaf lettuce to cover tortillas
Directions:
Spread each tortilla with the sauce and sprinkle with green onions.
Arrange turkey in single layer on each tortilla, leaving a 1-inch border around the edges. Cover the turkey with a lettuce leaf. Roll up tightly like a jelly-roll and wrap tightly in plastic wrap.
Refrigerate for at least 1 hour or for up to 6 hours. Cut each crosswise on the diagonal into 12 slices.
Boursin Pinwheels
Makes about 24 pinwheels
Ingredients:
3 (8-inch) tortillas
1 (5.2-ounce) carton Boursin cheese (garlic/herb cheese)
12 large fresh basil leaves
1/2 of a 7-ounce jar roasted sweet red peppers
4 ounces shaved deli roast beef, ham, or turkey
1 tablespoon mayonnaise (light or regular)
Directions:
Spread each tortilla with one-third of the cheese. Add a layer of the large fresh basil leaves to cover.
Cut the peppers into 1/4-inch wide strips and divide among the tortillas. Arrange over the basil leaves 1 to 2 inches apart.
Top with meat slices. Spread 1 teaspoon mayonnaise over the meat on each tortilla. Roll up the tortillas tightly, jelly-roll style. Wrap in plastic wrap.
Chill in the refrigerator 2 to 4 hours to blend flavors. To serve, remove the plastic wrap and cut each of the rolls into 1-inch slices (make diagonal slices, if desired).
Mexican-Style Pinwheels
Ingredients:
8 ounces sour cream
1 (8-ounce) container cream cheese, softened
1 (4-ounce) can diced green- chilies, well drained
1 cup grated Cheddar cheese
1/2 cup chopped green onion
Garlic powder and seasoned salt to taste
5 (10-inch) flour tortillas
Directions:
Mix all of the filling ingredients together. Divide the filling and spread evenly over the tortillas.
Roll up tortillas tightly and cover with plastic wrap, twisting ends.
Refrigerate for several hours. Unwrap and cut in slices about 1-inch thick.
Spicy Ham Pinwheels
Ingredients:
8 ounces cream cheese, softened
1 teaspoon onion, grated
1 teaspoon prepared horseradish
1 dash Worcestershire sauce
15 thin ham, slices
Directions:
Blend cream cheese, onion, horseradish and Worcestershire sauce until they are a spreading consistency. Spread each ham slice with cheese mixture.
Chill. Just before serving, cut crosswise into 1-inch slices. This is also great with roast beef from the deli.
Pineapple Ham Pinwheels
Ingredients:
1 package of flat bread or large tortillas
1 container cream cheese with pineapple
1 pound shaved ham
1 can roasted red peppers
Directions:
Spread a thin layer of cream cheese on bread. Place a layer of ham over them.
Pat dry peppers on paper towel. Place them on the ham, scattered, don't cover the entire piece of ham.
Roll up bread and wrap in plastic wrap overnight.
Just before serving, cut crosswise into 1-inch slices.
Mustard Ham Pinwheels
This makes about 80 pinwheels
Ingredients:
4 cups cooked ham
2/3 cup mayonnaise
2 teaspoons Dijon Mustard or hearty mustard
1/2 cup finely shredded Cheddar cheese
2 loaves unsliced sandwich bread
1/2 cup (1 stick) of butter
Directions:
Trim the crust off of the loaf of unsliced sandwich bread. Cut into 5 to 7 half-inch horizontal slices. Set aside.
Grind cooked ham in food processor or food grinder. Combine ham, cheese, mayonnaise and mustard. Mix well.
Butter each horizontal slice of bread and spread filling onto each slice. Roll up tightly each horizontal slice like a jelly-roll.
Wrap each roll in plastic wrap and refrigerate overnight. Remove wrap the next day and cut each roll into eight to 12 crosswise slices.
More wrap ideas
Blue cheese BLT wraps
Southwestern chicken wrap
Spicy tofu lettuce wraps
More From SheKnows Explorer