Sophisticated Recipes You Can Easily Prepare
If there's one thing I've learned from being a food blogger and recipe developer it's this: Gourmet cooking doesn't have to be hard. In fact, some of my favorite fancy gourmet meals are those that take less than 30 minutes to make. Forget dining out, make gourmet at home!
From fluffy Nutella crepes to homemade "Sherri's berries," these amazing gourmet dishes will impress all of your friends and make you feel like a five-star French chef in no time.
1
Gourmet chocolate-coated strawberries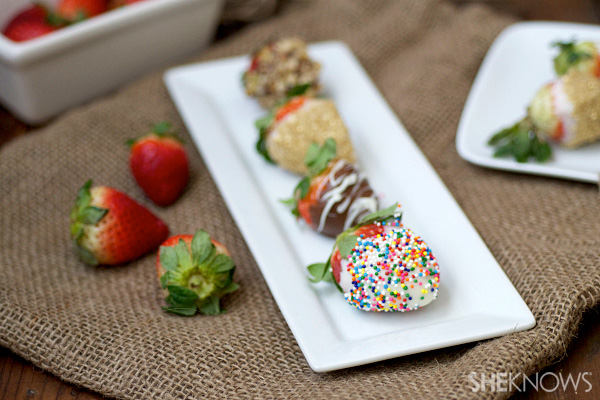 Serves about 8
Ingredients:
1 pound fresh strawberries
8 ounces milk chocolate chips
8 ounces white chocolate chips
2 tablespoons canola oil
Chopped walnuts
Gold sprinkles
Nonpareil sprinkles
Directions:
Place the milk chocolate chips in a microwave-safe bowl. Cook for about 60 seconds, stirring after 30 seconds. Stir to combine until chocolate is melted. Stir in 1 tablespoon of oil to make for easy dipping.
Place the white chocolate chips in a microwave-safe bowl. Melt for about 60 seconds, stirring after 30 seconds, until completely melted. Stir in 1 tablespoon of oil to make for easy dipping.
Stick a skewer in the center of each strawberry. Dip in melted chocolate and shake slightly to shake off excess chocolate.
Place the walnuts and sprinkles into shallow bowls. Dip each strawberry into the walnuts or sprinkles and then place on parchment paper. Chill for at least an hour.
2
Lemon cod in parchment paper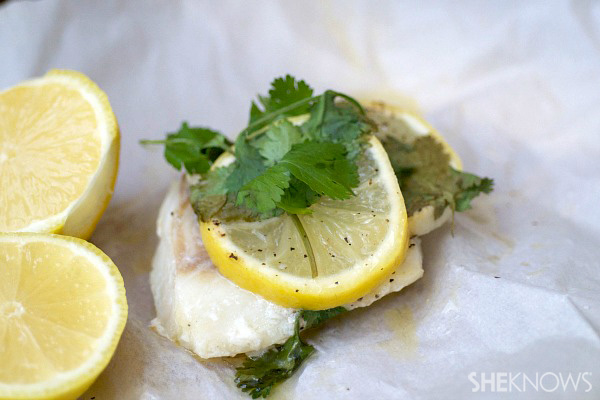 Serves about 2
Ingredients:
2 (6 ounce) cod fillets
2 tablespoons butter, melted
4 thin lemon slices
2 tablespoons chopped fresh herbs
Salt and pepper
Directions:
Preheat oven to 400 degrees F. Grease an 8 x 8-inch glass baking dish with nonstick cooking spray.
Draw out 2 large pieces of parchment paper and cut in half. Place the fish in the center of both pieces of parchment paper. Pour butter over the 2 fish slices and add 2 lemon slices on both. Garnish with fresh herbs, salt and pepper.
Pull the parchment paper up and fold over the fish. Tie with a piece of twine in a bow to close.
Place in a glass baking dish and bake for about 12 minutes.
3
Fluffy strawberry and Nutella crepes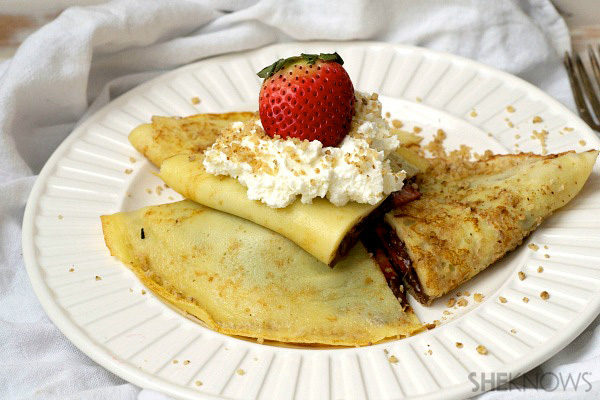 Serve about 8
Ingredients:
2 large eggs, room temperature
1/2 cup skim milk
1/2 cup heavy cream
1 cup all-purpose flour
2 tablespoons melted butter
1/4 cup chopped walnuts
About 1 cup Nutella
1 cup sliced strawberries
Directions:
In a large bowl, whisk the eggs, milk and cream together. Add the flour and melted butter, continue whisking until combined without any lumps. Cover and let sit for about an hour before cooking.
Heat a large nonstick pan over medium heat and spray with nonstick cooking spray. Add about 1/4 cup of the batter into the pan and tilt slightly to spread the batter over the entire pan.
Sprinkle the top with chopped walnuts. Carefully flip and cook another 15-30 seconds or until browned. Lay the crepes on a baking sheet.
Top each crepe with about 2 tablespoons of Nutella and a few sliced strawberries. Fold in half or quarters and serve with whipped cream.
4
Truffle, craft beer and honey risotto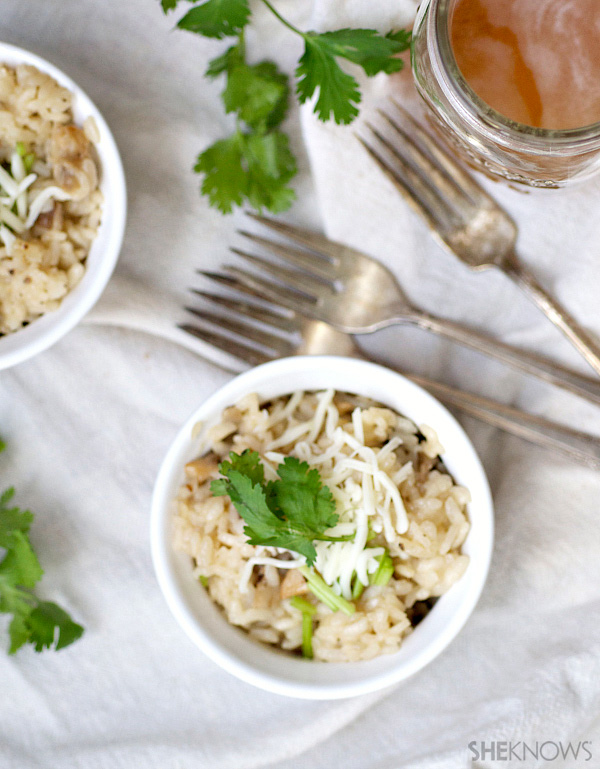 Serves about 4
Ingredients:
3 cups chicken broth
1-1/2 tablespoons truffle oil
1 pound oyster mushrooms, chopped
1 small onion, chopped
3/4 cup Arborio rice
1/4 cup white IPA beer
2 tablespoons chopped chives
2 tablespoons unsalted butter, melted
2-1/2 tablespoons Parmesan cheese
2 tablespoons honey
1 teaspoon truffle salt, divided
Directions:
Heat the oil in a large wok over medium heat. Add the onion and cook until softened, about 3 minutes. Mix in the mushrooms and cook until soft, another 2 minutes. Add the rice and cook until toasted, about 2 minutes. Stir in the beer and cook until liquid has evaporated.
Mix in 1 cup of chicken broth and stir to combine. Cook until liquid has evaporated. Mix in 1/2 of the truffle salt, honey and pepper. Keep adding liquid, 1/2 cup at a time, stirring very well after each addition, until rice is soft, about 15-20 minutes.
Remove from heat and stir in the butter, Parmesan cheese, remaining truffle salt and black pepper. Garnish each bowl with fresh herbs and chives.
More gourmet recipes
Gourmet vegan recipes
Gourmet tailgating recipes
10 Gourmet chef-inspired salads