Treat Your Valentine To A Festive Breakfast
Make your Valentine's Day breakfast extra special with these pink strawberry waffles.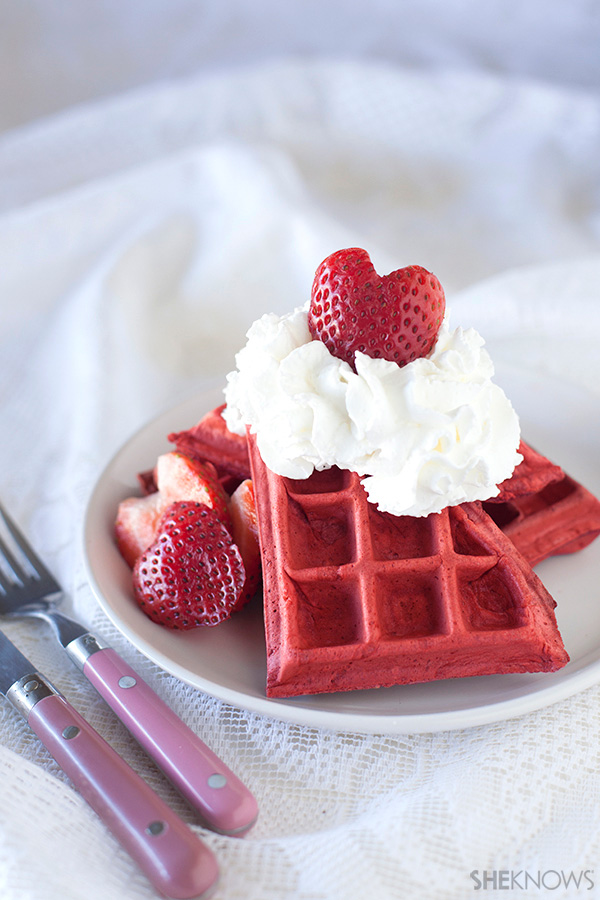 Freshly juiced strawberries replace the milk in this waffle recipe to create a crispy waffle in a lovely shade of pink. Just process the berries in a juicer or blend them and strain the juice. Make sure to bake the waffles on the lowest waffle iron setting, or they will start to brown and not look quite as festive.

As you can see, the waffles without food coloring will bake up to a subtle pink color from the natural strawberry juice. You can also add red food coloring if you want an extra boost of color.
Pink strawberry waffles recipe
Yields 6 Belgian-style waffles
Ingredients:
2 cups all-purpose flour
1-1/2 teaspoons baking powder
1 teaspoon baking soda
1/2 teaspoon salt
2 cups strawberry juice (from 12-16 strawberries)
4 eggs
2 tablespoons raw honey
Red food coloring (optional)
Whipped cream (optional)
Additional sliced strawberries for topping (optional)
Directions:
Preheat oven to 200 degrees F.
In a medium bowl, use a fork to whisk together the flour, baking powder, baking soda and salt.
In another bowl, whisk together the strawberry juice, eggs and honey.
Stir the wet ingredients into the dry. Mix in some red food coloring if your batter is not pink enough from the berries.
Cook waffles according to instructions for your waffle iron. Place cooked waffles directly on the oven rack to keep them warm and crisp until ready to serve.
Top with whipped cream and sliced strawberries if desired.
TIP
To get your waffles super-pink, as shown above, add about 1 teaspoon of Wilton icing color in red-red.
More Valentine's Day recipes
Valentine love bugs
Valentine heart-shaped crepes
Vegan Valentine sugar cookies