Perfect For Breakfast, Brunch Or Dessert
Red velvet is a new obsession of mine, and there's no better time of year to satisfy it than Valentine's Day. I've turned everything into red velvet from pancakes to brownies. But hands down, my favorite has to be red velvet bread.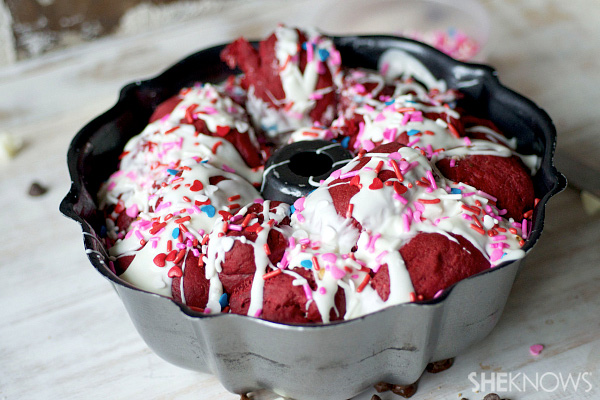 But not just any ol' bread, super-decadent pull-apart monkey bread! This fluffy bread is stuffed and topped with creamy white chocolate, oh, and sprinkles for good measure.

This will be your absolute favorite Valentine's Day treat. Or boring weekday breakfast, whichever works.
White chocolate-stuffed red velvet monkey bread recipe
Recipe inspired by Something Swanky
Serves about 14
Ingredients: 
For the bread
1/2 box red velvet cake mix
1/2 tablespoon active dry yeast
1-1/4 cups warm (110 degrees F) water
2-1/2 cups flour
1/2 teaspoon vanilla extract
1/2 cup white chocolate chips
Sprinkles, for garnish
For the filling
4 ounces white chocolate chips
1 cup heavy cream
1 egg white
1 tablespoon white sugar
For the drizzle
About 1/4 cup white chocolate chips
1-2 teaspoons canola oil
Directions:
Mix the yeast and the water together in a bowl. Let sit until foamy, about 10 minutes. In the bowl of a stand mixer, add the red velvet cake mix and flour. Pour the water and yeast mixture into the bowl and add vanilla extract. Attach a dough hook and beat until mixture forms a dough.
Place the dough onto a lightly floured surface. Knead for about 4 minutes, or until smooth and elastic. Place the dough into a lightly oiled bowl and cover with oiled plastic wrap. Place in a warm spot and let double in size, about 1-1/2 hours.
Meanwhile, make the filling. Melt the white chocolate with 1/4 cup of the heavy cream in a double boiler and whisk until smooth. In a clean bowl, whip the egg white with the sugar until fairly stiff peaks form. In another bowl, beat the remaining heavy cream until more stiff peaks form. Gently fold the beaten egg white into the white chocolate mixture, stirring until smooth. Then fold in the whipped cream until no streaks remain. Chill to thicken up.
Lightly punch down the bread dough. Liberally grease a Bundt pan with nonstick cooking spray. Pull apart the dough into small chunks and roll into golf ball-sized balls. Place 1 layer into the greased Bundt pan.
Top the first layer of bread with white chocolate filling. Roll the remaining dough into balls and place over the white chocolate. Cover with greased plastic wrap and let double again, about 45 minutes.
Remove the plastic wrap. Preheat oven to 400 degrees F. Bake the bread for about 25 minutes, or until a toothpick inserted in the middle comes out clean.
To make the drizzle, melt the white chocolate chips in the microwave for about 60 seconds, stirring after 30 seconds. Add oil to thin out and stir until melted.
Drizzle the top of the bread with melted chocolate and garnish with Valentine's Day sprinkles.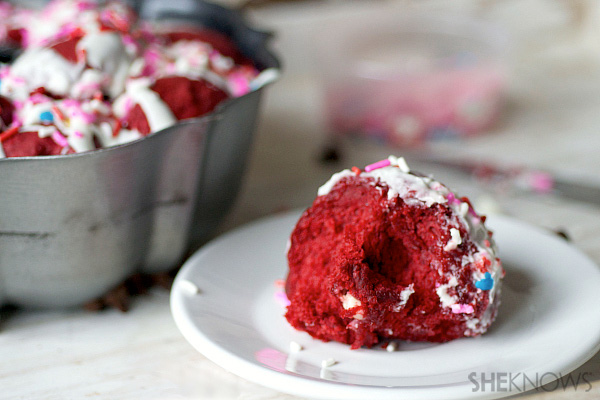 More red velvet recipes
Red velvet cheesecake ball recipe
Red velvet fondue recipe
Red velvet cupcakes recipe