Food To Feed A Crowd
Chinese New Year is just about here, so let the celebration begin. If you're hosting a get-together, these three easy appetizers make great party food.
Are you ready for a party? Chinese New Year is upon us (2014 marks the Year of the Horse), and that means it's time to celebrate the end of winter and beginning of spring and welcome in new opportunities and prosperity for the year ahead.
In true holiday fashion, Chinese New Year brings together family, friends and food. The recipes below are variations of several traditional dishes that are full of flavor, and are true crowd pleasers. These easy appetizer options will make your celebration complete.
1
Baked chicken wings with honey soy ginger marinade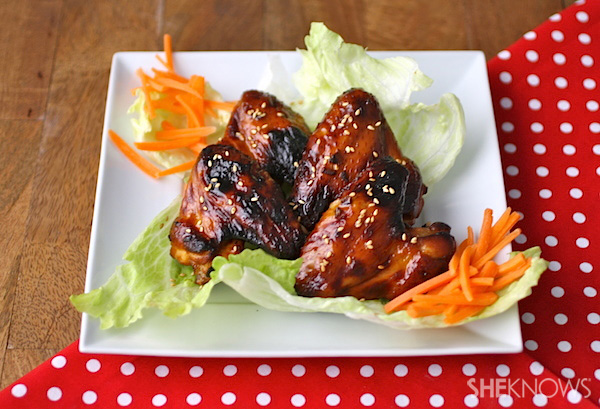 These wings are seasoned with a simple marinade made using Lee Kum Kee Panda Brand Oyster Flavored Sauce. The company's founder actually invented oyster sauce in 1888. Talk about tradition! These wings make an ideal appetizer for a crowd.
Recipe courtesy Lee Kum Kee Panda Brand
Serves 4
Ingredients:
Directions:
Add the oyster sauce, soy sauce, ginger and honey to a large sealable plastic bag. Add the chicken wings to the bag and seal it closed. Use your hands to massage the marinade onto the wings, then refrigerate for at least a few hours, or up to overnight.
Preheat your oven to 400 degrees F. Place a sheet of aluminum foil over a baking sheet and lightly spray it with the cooking spray.
Place the wings on the sheet so they are not touching. Use a brush to lightly add a bit of the marinade to the tops of the wings, then discard it.
Cook for 20-30 minutes, or until golden on top and the chicken is cooked through.
Remove from the oven and sprinkle with toasted sesame seeds.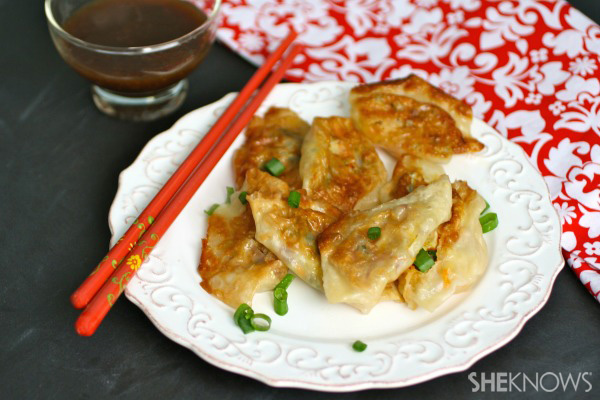 Pot stickers (or dumplings) make a truly special treat. This recipe is quite easy to make (use prepackaged shredded cabbage to make your prep even simpler), but don't fret if your "folding" technique is lacking — just make sure to tightly seal all the edges after stuffing them. Your guests will love digging into these tasty packets.
Serves 4
Ingredients:
1/2 cup shredded cabbage
1/2 cup shredded carrot
1/8 cup small diced white onion
2 garlic cloves, minced
1 tablespoon low-sodium soy sauce
1/2 teaspoon sesame oil
1/8 teaspoon ground black pepper
1 package wonton wrappers
1 teaspoon cornstarch
2 tablespoons vegetable oil
1/2 cup water
Directions:
Combine the cabbage, carrot, onion, garlic, soy sauce, sesame oil and black pepper in a medium bowl. Mix well.
Whisk the cornstarch in a small bowl with about 1/4 cup water.
One at a time, lay a wonton wrapper on a flat work surface (keep the remaining wrappers covered with a damp paper towel). Dip your finger in the cornstarch-water mixture and run it around the edges of the wrapper.
Place a teaspoon of the veggie filling in the center of the wrapper. Fold the top and bottom edges together to form a triangle. Fold the tip of the triangle down, then fold the two sides in toward the center. You may need to use a bit more of the water mixture to help ensure the edges are completely sealed.
Add the oil to a large skillet over medium heat. When hot, carefully add the pot stickers, smooth-side down, and cook for a minute or more, until golden.
Add the 1/2 cup of water to the pan and put the lid on. Cook for a minute, remove the lid and continue to cook until most of the liquid is absorbed.
Remove from the skillet and serve warm with your favorite dipping sauce.
3
Crab rangoon dip with baked wonton chips
You've likely enjoyed crab rangoon at your favorite Chinese restaurant in the form of fried wontons stuffed with a warm, creamy crabmeat mixture. I've deconstructed this version and switched things up a bit. Bake the wontons in the oven for just a few minutes, then use them to dip into this cold, creamy and seasoned dip. What a treat!
Serves 8
Ingredients:
2 (8 ounce) packages cream cheese, softened
2 (6 ounce) cans white crabmeat, drained
2 tablespoons mayonnaise
2 tablespoons chili garlic sauce (more or less to taste)
2 teaspoons soy sauce
6 green onions, diced (use all the white portions for the dip along with a bit of the green, saving some of the green for garnish)
1/4 teaspoon salt
1/8 teaspoon ground black pepper
20-24 wonton wrappers
Black sesame seeds for garnish (optional)
Directions:
For the dip
Add all the ingredients, up to the wonton wrappers, to a medium bowl and mix well. Taste and adjust the seasoning as needed. Refrigerate until ready to use.
For the wonton chips
Preheat your oven to 350 degrees F. Line 2 baking sheets with aluminum foil and set aside.
Use a sharp knife to cut wonton wrappers in half, diagonally. Place the triangles on the baking sheets so they are not touching.
Dip your finger into a small bowl of water and run it across the tops of the wrapper pieces. Sprinkle with the black sesame seeds.
Bake for about 4 minutes, or until lightly golden. Remove from the oven and serve with the dip.
While all of the content on SheKnows reflects the honest opinion of our writers, Lee Kum Kee Panda Brand provided us with product for review.
More Chinese New Year recipes
Long life noodles
Festive Chinese spring rolls
Chinese New Year sticky rice cake