The Best And Skinniest Cakes For The New Year!
I know I'm not the only person struggling to keep my New Year's resolutions. And even if I am, please pretend like you're having trouble too, for my sake, OK? No matter how hard I try, I just can't kick dessert. That's why I'm going to enjoy one of these amazing low-fat cakes instead.
Each of these delicious cakes or cupcakes has less than 250 calories per serving, which is pretty darn amazing. Instead of having to waste a meal's worth of calories on dessert, now I can have dinner and dessert without gaining 15 pounds. But who are we kidding, I'll probably eat just dessert anyway.
1
Skinny Funfetti cupcake recipe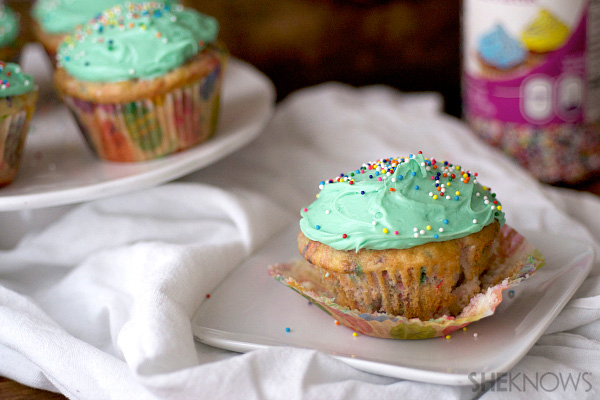 Recipe slightly adapted from Six Sisters' Stuff
Serves about 24
Ingredients:
1 package white cake mix
1/2 cup nonpareil sprinkles
1 can Sprite Zero
1 stick unsalted butter
2 cups powdered sugar
2 tablespoons light cream
1/2 teaspoon vanilla
Green food dye
Nonpareil sprinkles
Directions:
Preheat oven to 350 degrees F. Line a muffin tin with liners.
Mix the cake mix and Sprite Zero together until fully mixed. Carefully fold in the sprinkles, being careful not to bleed the colors. Fill each liner about 3/4 full with batter.
Bake for about 18 minutes, or until a toothpick inserted in the middle comes out clean.
Beat the butter, sugar, light cream and vanilla together until soft and fluffy. Add a few drops of green coloring to get a light green color. Add more nonpareils to the top.
2
Light lemon pudding cake recipe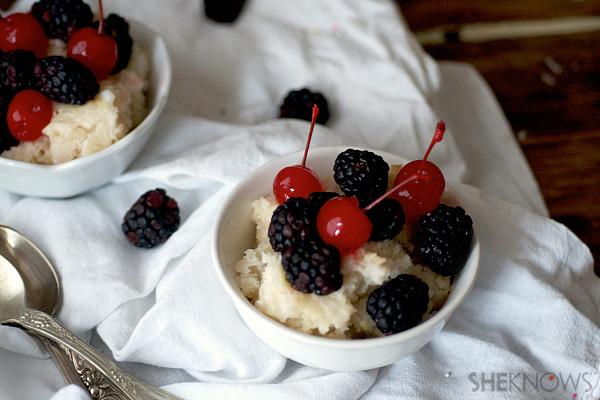 Recipe inspired by My Recipes
Serves about 8
Ingredients:
9-ounce package white cake mix
1/2 cup skim milk
1/4 cup nonfat strawberry banana yogurt
1 lemon, juiced and zested
2/3 cup boiling water
2 cups blackberries and maraschino cherries
1/4 teaspoon vanilla extract
Directions: 
Preheat oven to 350 degrees F and grease an 8 x 8-inch casserole dish with nonstick cooking spray.
Mix the cake mix, milk and yogurt together, stirring to combine. Stir in the lemon juice and zest.
Pour the mixture into the greased casserole dish. Pour the boiling water over the cake. Don't worry, the water absorbs into the cake for a pudding-like final product.
Bake for about 25-30 minutes, or until golden brown on top. Let cool and then garnish with berries.
3
Skinny peppermint ice cream cake recipe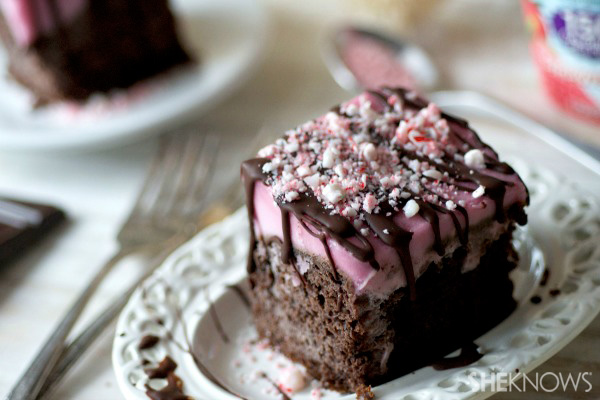 Serves about 12
Ingredients:
1 cup white sugar
About 1 cup all-purpose flour
1/4 cup + 2 tablespoons unsweetened cocoa powder
3/4 teaspoon baking powder
3/4 teaspoon baking soda
Dash salt
1 egg
1/4 cup heavy cream
1/4 cup milk
1/4 cup canola oil
1/2 teaspoon peppermint extract
1/2 teaspoon vanilla extract
1/2 cup boiling water
1 quart strawberry Arctic Zero, slightly softened
About 1/2 cup melted dark chocolate
1 cup crushed candy canes
Directions:
To make the cake, whisk the sugar, flour, cocoa powder, baking powder, baking soda and salt together in a large bowl. In another bowl, beat the eggs, cream, milk, canola oil, peppermint extract, vanilla extract and boiling water.
Pour the wet mixture into the dry mixture and stir to combine.
Preheat oven to 350 degrees F. Grease a standard 9 x 9-inch square cake pan with nonstick cooking spray. Pour the chocolate cake mix into the pan and bake until a toothpick inserted in the middle comes out clean, about 35-40 minutes.
Let cool completely, for at least an hour. Once cooled, spread the Arctic Zero over the cake. Freeze overnight to set.
Once frozen, defrost for a few minutes. Then sprinkle with peppermint candy. Carefully drizzle melted chocolate over the candy and serve!
More low-fat dessert recipes
3 Easy low-fat chocolate desserts
Luscious low-fat summer desserts
Lower-fat Mexican wedding cookies