Healthy Ladybugs Are Sure To Hit The Spot
Bring a touch of whimsy to your Valentine's Day with these cute edible ladybugs. Sweet bugs made with chocolate and strawberries make a healthy dessert, while savory tomato and olive bugs are the perfect appetizer or kid's snack.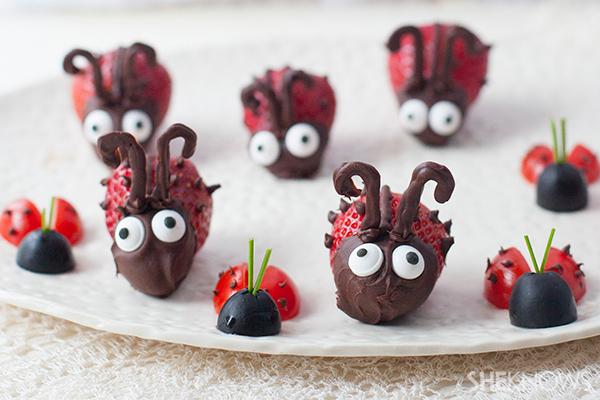 I love cute holiday food, but a lot of the adorable Valentine's Day recipes seem to be on sugar overload. These two versions of edible ladybugs provide both sweet and savory treats that are so delightful, you won't even notice that they're actually healthy.
For similar versions of strawberry love bugs, check out Wing It Vegan, Minnie's Cakes, National Wildlife Federation and dilikestobake.
Valentine love bug snacks
Yields 10 of each
Ingredients:
For tomato bugs
5 cherry tomatoes (slightly oblong)
10 medium olives
1/4 cup cream cheese, softened
Black food coloring
Parsley stems
For strawberry bugs
10 large strawberries
1 cup chocolate chips
20 (1/2 inch) candy eyeballs
Directions: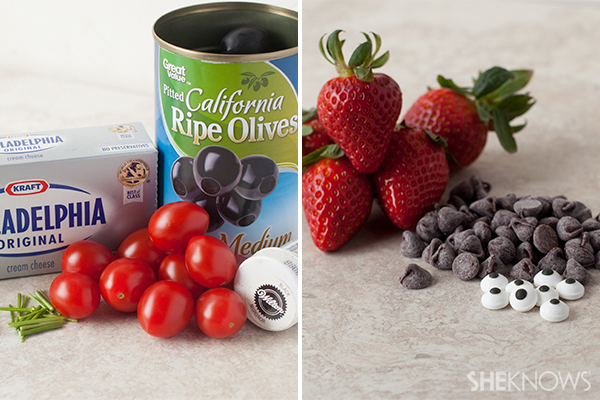 Assemble your ingredients. If you are making both sets of bugs, I suggest making the strawberries first so the chocolate can harden while you make the tomato bugs.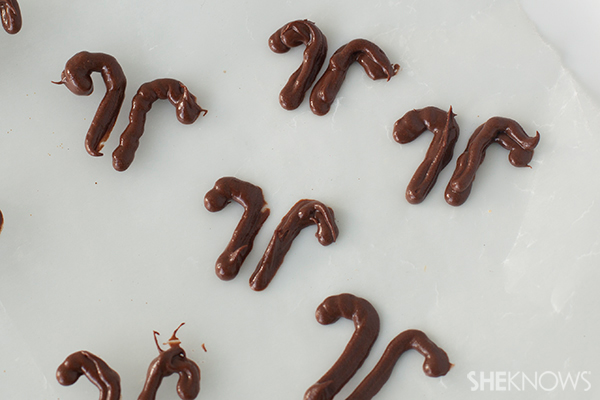 Heat chocolate chips in a microwave safe bowl for 1 minute. Stir. Heat an additional 30-45 seconds and stir until smooth. Spoon 1/3 of the chocolate into a frosting bag fitted with a #3 piping tip (you can also use a sandwich bag with the corner snipped off). Pipe 10 pairs of antennae onto a plate lined with wax paper. Place plate in the freezer for at least 5 minutes.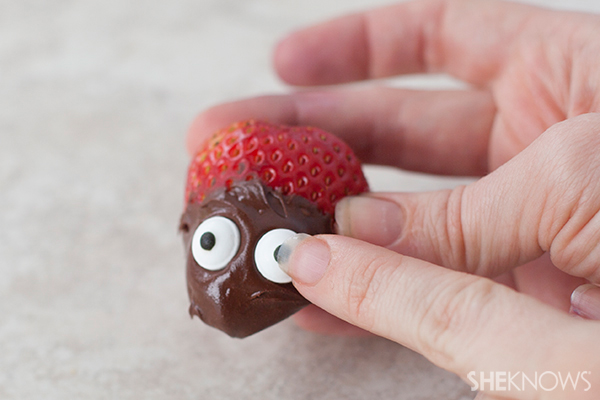 Remove leaves from the strawberries and dip their tips into the melted chocolate remaining in the bowl. Press 2 candy eyes into the chocolate on each strawberry. I recommend placing your strawberries directly onto the plate or platter you will be serving them on as they may stick once they harden.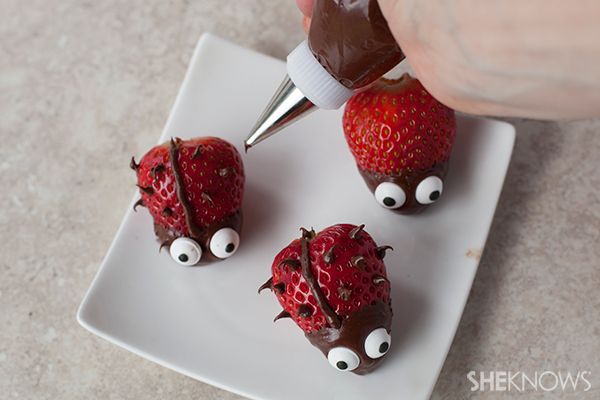 Use your frosting bag of chocolate to pipe a line down the center of each strawberry, and 5 or 6 dots on each side of the line.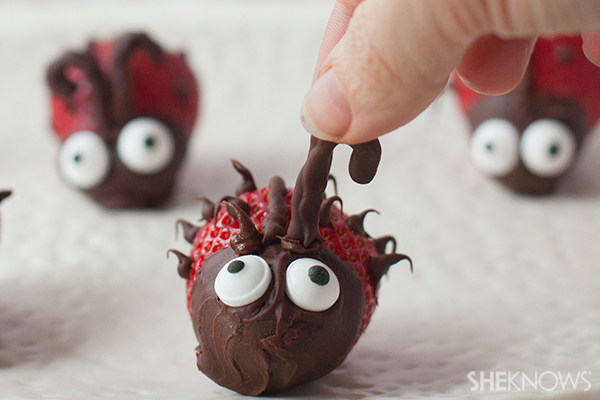 Remove the antennae from the freezer and peel them off. Press 1 pair into the chocolate, right above the eyes of each bug. You can use a little extra chocolate from your frosting bag if you need to. Place strawberry bugs in the fridge to firm the chocolate.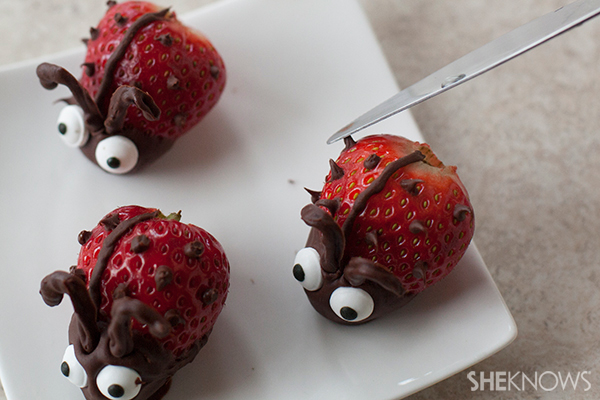 Once chocolate has hardened, fill a small bowl with hot water. Dip a knife into the water, wipe it dry and use it to press the dots flat. Repeat until all the dots are flattened.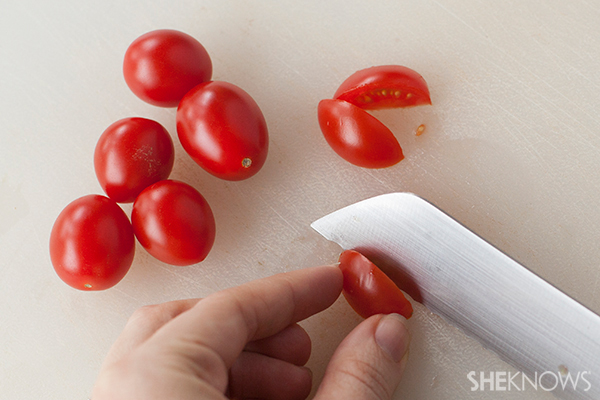 Now let's assemble the tomato bugs. Start by slicing the tomatoes into quarters. If your tomatoes are slightly oblong like mine, make sure to slice them lengthwise. I find that a serrated knife (like a bread knife) gives the cleanest cut.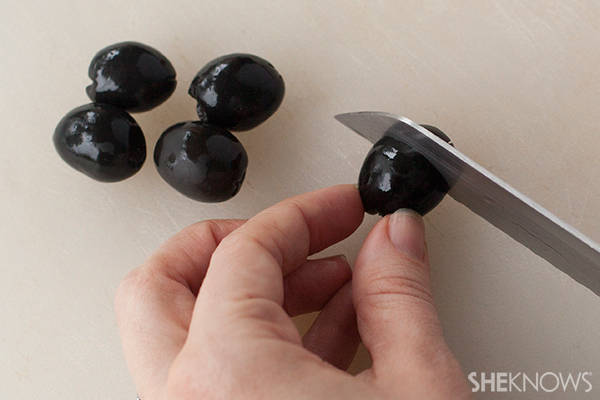 Slice 1/3 off the end of your olives, make sure it's the end with the big hole. You can use those ends for something else.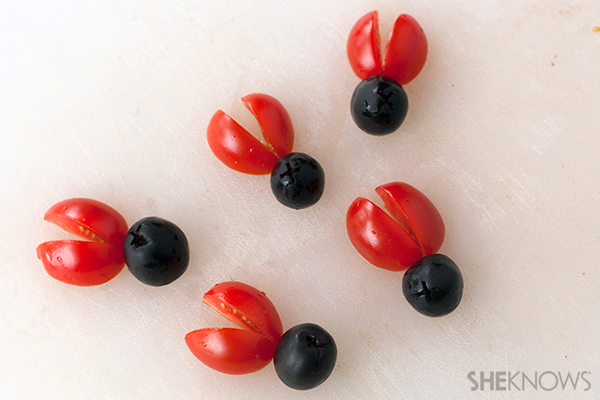 Place 2 tomato quarters and 1 olive together to form the wings and head of the ladybug.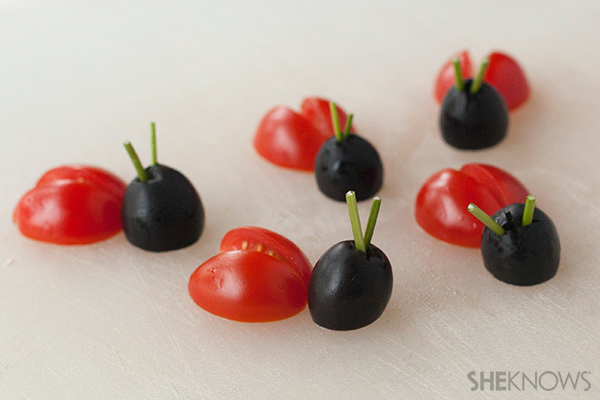 Place 2 (1 inch) pieces of parsley stem into the X on each olive to form your ladybugs' antennae.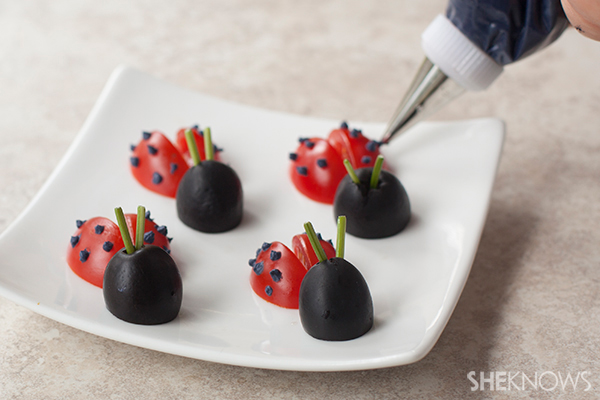 Mix some black food coloring into the cream cheese, and add water about 1/4 teaspoon at a time until the cream cheese is smooth and easy to mix. Spoon the cream cheese into a frosting bag fitted with a #3 tip (again you could use a sandwich bag with the corner snipped off). Pipe spots onto each tomato segment.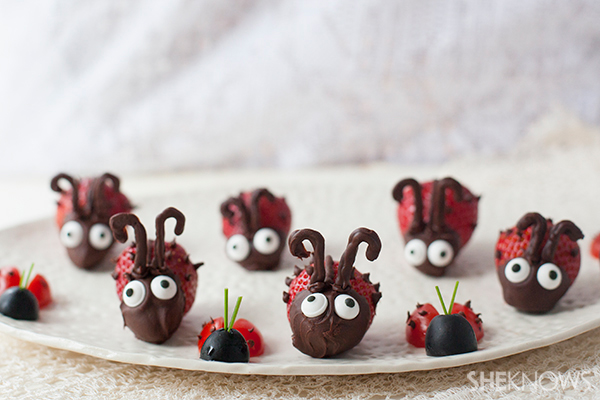 Share your sweet strawberry and savory tomato ladybugs with your Valentine.
More bite-size Valentine's Day treats
Valentine's Day hot chocolate shots
Valentine's Day brownie bites
Fruit Roll-Ups fortune cookies