A Buttery, Decadent Brunch Menu
If you've never had brown butter, you haven't lived. The nutty, rich aroma adds such an incredible complexity to any dish and puts this brunch menu over the top.
Since the holidays are all about indulging, I decided to add about 2 pounds of it into each of these amazing brunch recipes. Okay, I lied, maybe not an entire pound, but if you're scared of butter, you should probably click the X in the top corner of your screen. From decadent pancakes to the world's best breakfast sandwich, you'll never have your butter another way again.
1
Brown butter eggnog pancakes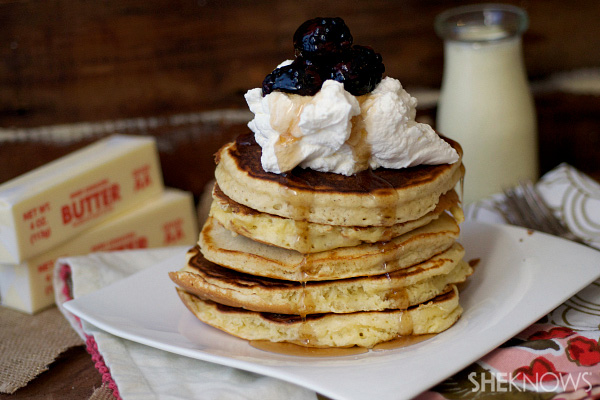 Recipe inspired by How Sweet It Is
Serves about 4
Ingredients:
2 cups all-purpose flour
1/4 cup unsalted butter
2-1/2 tablespoons sugar
2 teaspoons baking powder
Dash cinnamon
2 teaspoons vanilla extract
1 cup eggnog
1/4 cup light cream
1 egg
Nonstick cooking spray
Fresh whipped cream for garnish
Directions:
Whisk the flour, sugar, baking powder and cinnamon together in a large bowl.
In a large skillet, add the butter and heat over medium heat. Whisk until the butter is caramel colored and smells nutty, this will take about 5 minutes. Be sure not to overcook or it'll burn.
Add the butter to the flour and stir in the egg, eggnog, light cream and vanilla extract. Mix to combine.
In the same skillet that you browned the butter in, add about 3 tablespoons of batter. Cook until the batter bubbles up and then flip. Cook another 3-4 minutes or until golden brown. Top with whipped cream, fruit and syrup.
2
Vegetable and cheese toasts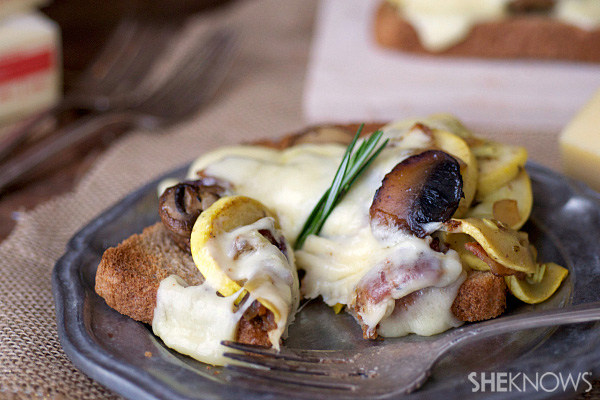 Serves about 4
Ingredients:
2-3 tablespoons unsalted butter
1 zucchini, sliced
1 yellow squash, sliced
1 cup mushrooms, sliced
1 small yellow onion, diced
2 cloves garlic, minced
1 tablespoon Italian seasoning
Salt and pepper
4 slices fontina cheese
4 slices thick wheat bread
Directions:
In a large skillet over medium heat, add the butter. Whisk constantly until browned and nutty, about 5 minutes. Add in the onion, garlic, mushrooms, squash and zucchini. Stir in the Italian seasoning, salt and pepper. Cook until vegetables are soft and fragrant.
Toast the bread in a toaster. Top with a hefty spoonful of veggies and add a slice of cheese on top.
Preheat oven to broil. Broil toasts for about 5 minutes or until cheese is bubbly and toast is very crispy.
3
Gooey baked banana and strawberry muesli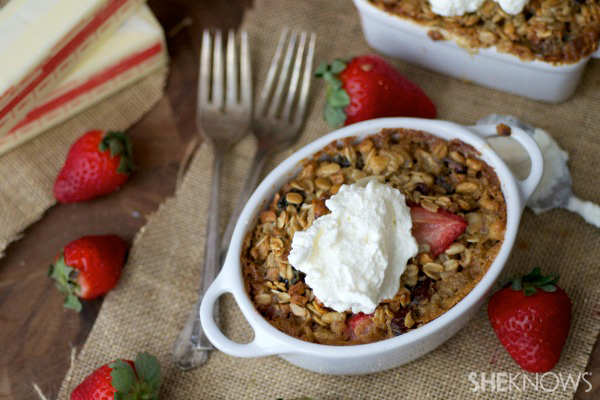 Serves about 4
Ingredients:
1-1/2 cups muesli
1/2 cup brown sugar
1 teaspoon baking powder
1/2 teaspoon cinnamon
1 egg, large
1/2 cup almond milk
1/4 cup butter
1/2 cup chopped strawberries
1 banana, mashed
Directions:
Preheat oven to 350 degrees F. Grease four small cocottes with nonstick cooking spray.
In a large skillet over medium heat, add the butter. Whisk constantly until browned and nutty, about 5 minutes.
In a large bowl, mix the muesli, browned butter, brown sugar, baking powder, cinnamon, egg, almond milk, strawberries and banana. Stir to combine.
Pour the mixture into the four cocottes. Bake for about 40 minutes and serve with whipped cream.
4
Brown butter sausage and cheese biscuits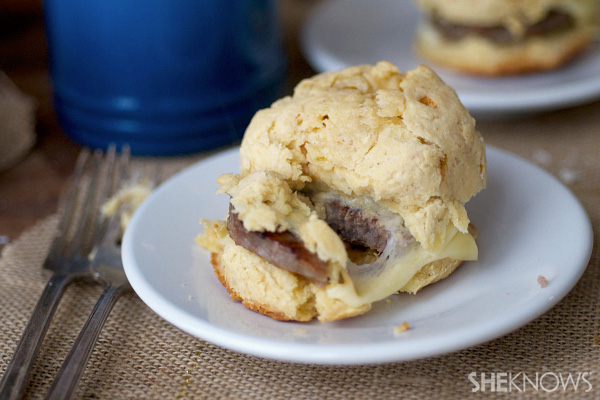 Serves about 8
Ingredients:
6 tablespoons unsalted butter
2 cups all-purpose flour
1 tablespoon baking powder
1 tablespoon brown sugar
3/4 cup buttermilk
8 sausage patties, cooked
8 slices cheese
Directions: 
In a large skillet over medium heat, add the butter. Whisk constantly until browned and nutty, about 5 minutes. Pour the butter into a container and chill in the fridge for at least 2 hours, or until solid.

Whisk the brown sugar, flour and baking powder together. Using a pastry knife, cut in the browned butter until the mixture resembles coarse sand. Mix in the milk until mixture forms a dough.
Place on a floured surface and knead until soft. Using a floured rolling pin, roll the dough to about 1/3 inch thickness. Fold the dough in half and then in half again. Roll out again to 1/2 inch thickness and then fold in half and then in half again. Repeat two more times.
Using a circle cookie cutter, cut out circles. Place on a parchment-lined baking sheet.
Preheat oven to 425 degrees F. Bake the biscuits for about 12 minutes, or until fluffy. Let cool slightly.
Heat the sausages until very warm. Slice the biscuits in half. Top with sausage and cheese. Top with remaining biscuit half.
More brunch recipes
Maple and cranberry sticky buns
Grab & go scrambled egg cups
Homemade chicken apple and sage sausage patties