Playing Matchmaker
If you're a chocoholic (and what red-blooded American woman isn't?), you know the only thing better than chocolate is chocolate with your favorite flavors. This handy guide will show you how to pair your favorite treats with the right chocolate.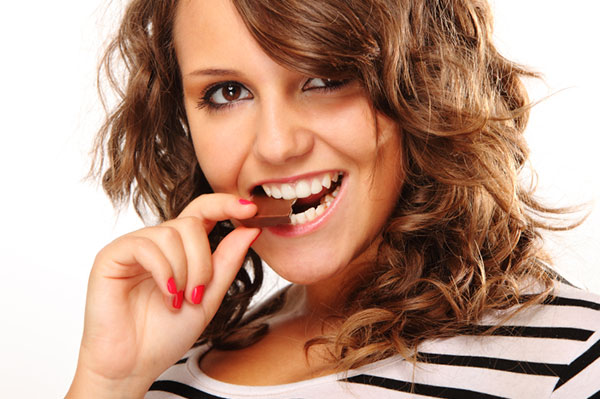 White chocolate
Pairing white chocolate can be challenging because of its delicate flavors, but it ultimately creates some of the most unique and versatile combinations.
Pairings:
Sea salt caramel
Agave nectar
Maple syrup
Lemongrass
Pink peppercorn
Cardamom
Saffron
Sea salt
Wasabi
Lemon
Lime
Orange
Cranberry
Blueberries
Strawberries
Macadamia nuts
Cashews
Hazelnuts
Brie
Wisconsin mixed-milk cheese
Caviar
Dragon well tea
Matcha tea
Colombian coffee
Costa Rican coffee
Yemeni coffee
Bourbon-barrel-aged tripel (beer)
Orange muscat
Vintage port
Chocolate stout
Fun ideas:
For breakfast, we like a small chunk or two of white chocolate on the side or melted into complementary coffees. Savor the aroma of medium-roasted beans with a touch of caramel. Or indulge in a cup of easy drinking lighter-roasted beans with a generous kick of silky smooth vanilla. The right roast with the right flavor makes all the difference. Look for these and other Starbucks® K-Cup® packs where you buy groceries.
For a fancy treat for you and your beau, whip up a white chocolate soufflé and add some caviar (almost as much caviar as you have white chocolate. This scientifically proven (yes, we're serious) flavor combo powerhouse may sound strange, but it's a darling of molecular gastronomists.
Milk chocolate
For milk chocolate, look for deep European-style milk chocolates. While chocolates from different manufacturers may have different characteristics (nuttiness, fruitiness, etc.), in general, most people prefer milk chocolates that are full-flavored, creamy and not too sweet.
Pairings:
Caramel
Honey
Coconut
Lavender
Pink Himalayan salt
Ginger
Curry powder
Orange
Strawberries
Goji berries
Raspberries
Asiago
Gruyère
Peanuts
Walnuts
Bacon
Chai tea
Darjeeling tea
Smoked black tea
Colombian coffee
Kenyan coffee
Sumatran coffee
Yemeni coffee
Ethiopian coffee
Kona coffee
Raspberry beers
Fun ideas:
Thread some raw bacon onto wooden skewers and bake them up until they're nice and crispy. Temper some milk chocolate (with a glob of shortening if desired) in a double boiler and use pastry brushes to coat the bacon with the chocolate. Sprinkle it with peanuts or walnuts, crystallized ginger, grated Gruyère or chopped Goji berries and place them on a wax paper-lined sheet to refrigerate until they're set.
Chop up some quality milk chocolate and sprinkle it over a big scoop of orange sorbet. Serve it after a hearty meal with a cup of Sumatran coffee.
Dark chocolate
Dark chocolate is often considered the most versatile of the chocolates. This includes semisweet and bittersweet chocolate. Because it's less sweet than other chocolates, it contrasts well with sweet or tangy foods, while richer flavors, like offer and balsamic, serve to bring out the richness of the confection.
Pairings:
Sea salt caramel
Ginger
Lavender
Mint
Cardamom
Black pepper
Wasabi
Chipotle
Jalapeño
Cinnamon
Fennel
Black sesame seeds
Banana
Lime
Berries
Figs
Grapes
Dried currants
Pine nuts
Hazelnuts
Almonds
Goat cheese
Aged gouda
Parmesan
Chèvre
Monterey Jack
Blue cheese
Balsamic vinegar
Grasshoppers
Salmon
Shrimp
Assam tea
Earl Grey tea
Indonesian coffee
Guatemalan coffee
Brazilian coffee
Ethiopian coffee
Dark-roast coffee
Espresso beans
Belgian quad (beer)
Red zinfandel
Pinot noir
Fun ideas:
The next time you make brownies or chocolate cake, sprinkle in a little black pepper to add a little heat and complexity. Serve dessert up with a berry-streaked whipped cream and a glass of pinot noir.
At your next dinner party, whip up some chocolate-covered espresso beans, almonds and grasshoppers. Serve them up with your guests' choices of a dark-roasted coffee or Belgian quad.
Tip:
If you start with the beer, they'll be more adventurous about the chocolate-covered grasshoppers.
Poll:
Which flavor combo are you most eager to try?
a. White chocolate and caviar
b. Milk chocolate and Gruyère
c. Dark chocolate and jalapeño
d. I'll stick with chocolate and coffee, thanks!
More on chocolate
Tips for pairing chocolates and wine
Drink up: Study shows hot chocolate helps your brain
Baking 101: When to use different kinds of chocolate