You'll Flip For These Spuds!
These pancakes offer a great option as part of a light meal. We transform mashed potatoes into pancakes topped with a roasted salsa!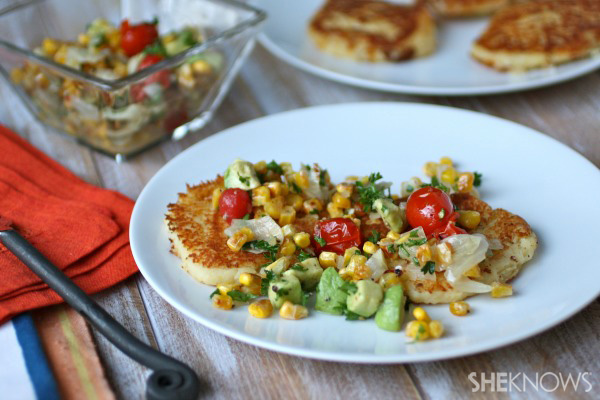 This Gluten-free Friday recipe for potato pancakes with roasted corn salsa is great for lunch or dinner. Whether you use up leftover mashed potatoes or make them just for this recipe, the roasted salsa makes a refreshing topping for these pancakes. What a great combo!
Note: Gluten can be found in many different foods and products, from ketchup to soy sauce to candy and seasonings. While SheKnows.com tries to ensure these recipes are gluten-free, carefully read the ingredient labels of all food and food products you use for these recipes to ensure they are also gluten-free.
Potato pancakes with roasted corn salsa recipe
Serves 4
Ingredients:
For the salsa
1 cup corn kernels
1/3 cup cherry tomatoes
1/4 cup white onion, cut into large pieces
1 garlic clove
2 tablespoons olive oil, divided
Juice of 1/2 lime
1 avocado, peeled, seeded and diced
2 tablespoons fresh chopped parsley
1/8 teaspoon salt
1/8 teaspoon ground black pepper
1/8 teaspoon red pepper flakes
For the potato pancakes
1-1/2 pounds Yukon Gold or Russet potatoes, cleaned, peeled and diced large
1/2 teaspoon salt, plus 1/4 teaspoon
2/3 cup milk, plus 2 tablespoons
1-1/2 cups shredded cheddar cheese
1/4 teaspoon ground black pepper
1 egg
2 tablespoons olive oil, divided
Directions:
For the salsa
Preheat the oven to 425 degrees F.
Add the corn, tomatoes, onion, and garlic to a baking dish. Drizzle with 1 tablespoon of olive oil.
Cook the vegetables for 5-8 minutes, stirring once. The tomatoes should burst and the corn and onion will begin to char slightly.
Remove from the oven and allow the vegetables to cool.
Once cool, chop the onion and garlic, and add it to a bowl along with the tomatoes and corn.
Mix in the remaining olive oil, parsley, lime juice, avocado, salt, black and red pepper and toss well.
Refrigerate until ready to use.
For the potato pancakes
Add the potatoes to a large pot and cover them with water. Add 1/2 teaspoon of salt and bring them to a boil.
Reduce the heat and simmer the potatoes for about 20 minutes, or until done. The potatoes should be soft when you pierce them.
As the potatoes are cooking, warm the 2/3 cup of milk (don't bring it to a boil).
Drain the potatoes and return them to the pan. Use a potato masher to mash the potatoes until most of the lumps have broken down.
A little at a time, stir in the milk and mix it into the potatoes until they become smooth.
In a saucepan over low heat, add the 2 tablespoons of milk and the cheddar cheese. Stir, cooking, until the cheese has melted.
Immediately transfer the cheese to the potatoes and mix together.
Add the egg, 1/4 teaspoon of the salt and the ground black pepper to the mashed potatoes and mix well.
Add 1 tablespoon of olive oil to a large skillet over medium-high heat. When hot, drop 4 large dollops of the mashed potato into the skillet, to form 4 (3 to 4 inch) pancakes.
Press lightly on the pancakes with a spatula to flatten them. Cook until the bottoms turn golden (about 3 minutes), then carefully flip the pancakes and cook for another 2-3 minutes. Add the remaining 1 tablespoon of oil to the skillet, as needed, and continue with the remaining mashed potatoes.
Serve warm topped with the salsa.
More Gluten-free Friday recipes
Baked sweet potatoes with orange-yogurt sauce
Cinnamon breakfast quinoa with berries and nuts
Tomato-basil frittata