Jiggle In The New Year
It's time to get a little jiggly with our Champagne. These fancy jello shots are perfect for New Year's Eve and add just a touch of bubbly to a classic treat.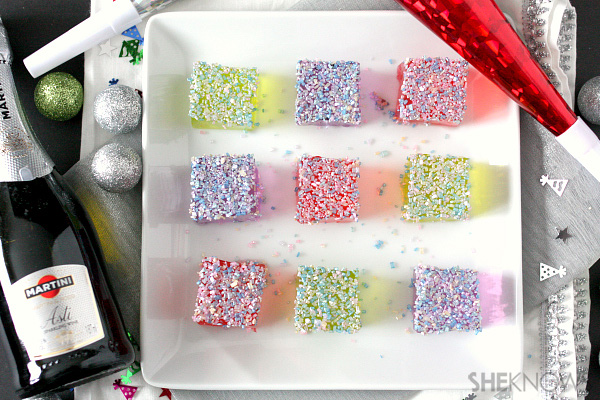 There is nothing more festive than jiggly jello. We made it even more festive by using Champagne and lots of sparkly sanding sugar. You can leave the jello plain colored (it will be a light cream color) or add food coloring to bring a little color to the party.
Champagne jello shots
Yields 12-15 shots
Ingredients:
8 ounces Champagne
7 ounces lemon-lime soda, divided
3 packets unflavored gelatin
Food coloring (if desired)
Sanding sugar
Directions:
In a small saucepan add Champagne and 2 ounces of the lemon-lime soda.
Sprinkle gelatin on top and let sit for at least 2 minutes.
Put the saucepan on medium-low heat and heat until the gelatin is dissolved. Do not let the mixture boil, you're just letting the gelatin dissolve.
Remove from heat and add in remaining lemon-lime soda.
If you want to add color, simply add a few drops of food color and stir.
Add jello to small single-serving containers or a small baking dish. You can also add your jello to a silicone ice tray if you own one. That is what we used.
Put the jello in the refrigerator for at least 2 hours until completely set up.
Cut jello into squares and carefully remove it from the container. Dip the top in sanding sugar if desired.
Keep shots refrigerated until ready to eat.
Note: It's best to use large crystal sanding sugar so it will not dissolve easily. You can find sanding sugar in most craft or baking supply stores.
More Champagne recipes
3 Edible Champagne recipes
Chambord and Champagne cocktail recipe
Mussels and Champagne recipe