Seasonal peppermint mocha cupcakes
If you can't wait to order your first peppermint mocha of the season, you'll love these cupcakes inspired by your favorite coffee drink.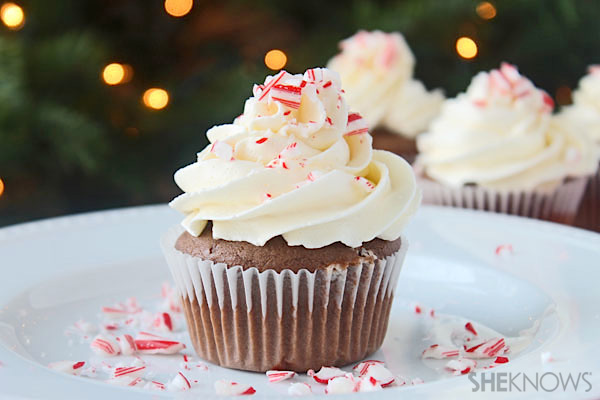 Coffee, chocolate and peppermint buttercream — need we say more?
Double chocolate mocha cupcakes with peppermint buttercream recipe
Yields 12-14
Ingredients:
For the cupcakes
1 stick butter, softened
1 cup sugar
2 eggs + 1 egg white
1/2 cup strong coffee
1/2 teaspoon vanilla extract
2-1/4 teaspoons baking powder
1/2 teaspoon salt
1-1/2 cups all-purpose flour
1/2 cup cake flour
1/2 cup cocoa powder
2/3 cup milk
1/2 cup semisweet chocolate chips
For the peppermint buttercream
3 egg whites
3/4 cup sugar
2 sticks butter, softened
1/2 teaspoon vanilla
1/2 teaspoon peppermint extract
Crushed candy canes or peppermint candies
Directions:
For the cupcakes
Preheat oven to 350 degrees F. Line a muffin tin with liners.
In an electric mixer, cream butter and sugar together on medium-high until light and fluffy.
Lower speed to medium, add eggs and egg white one at a time, making sure each one is fully incorporated before adding the next. Add coffee and vanilla extract. Mix until combined.
In a large bowl, sift baking powder, salt, flours and cocoa powder together.
With the mixer on low, add the flour mixture and milk alternating first with 1/3 of the flour, then 1/2 of the milk, ending with flour. Fold in chocolate chips.
Fill each muffin tin about 3/4 full and bake for 20 minutes or until a wooden skewer comes out with just a few crumbs attached. Remove from tins and cool on a wire rack.
For the peppermint buttercream
Place egg whites and sugar in a double boiler and whisk constantly until the sugar has dissolved and the mixture is warm, about 2-3 minutes.
Transfer mixture to an electric mixer. Using the whisk attachment beat the egg whites until stiff peaks form on a high speed, about 12 minutes.
Switch to the paddle attachment. With the mixer on medium add the softened butter 1 tablespoon at a time, making sure each addition is fully incorporated.
Once butter is incorporated, add the vanilla and peppermint extract.
If the mixture begins to separate, turn the mixer back to the highest speed and mix until it is cohesive.
After cupcakes have cooled, pipe frosting onto cupcakes. Garnish with crushed candy canes or peppermint candies.
More Daily Flavor
Lemon cheesecake
Cinnamon swirl bread
Brown butter Rolo chocolate chip cookies