Cheesy pasta lightened up
Eat a bowl of this low-fat mac and cheese with all the cheesiness and none of the guilt.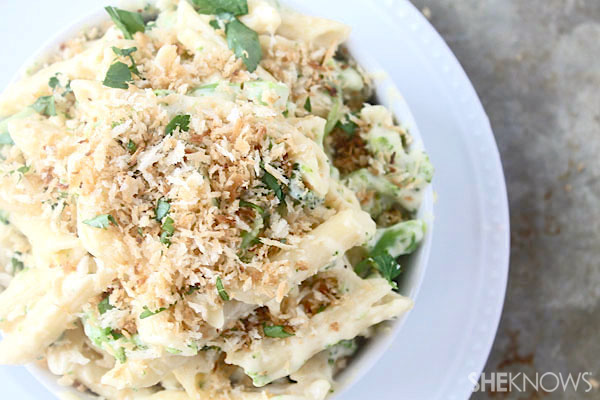 Skip the powdery cheese packets and whip up homemade low-fat broccoli macaroni and cheese for dinner, topped with crunchy panko breadcrumbs.
Low-fat macaroni and cheese recipe
Serves 2-4
Ingredients:
12 ounces high-fiber or whole wheat penne
8 ounces chopped frozen broccoli (optional)
8 ounces reduced-fat evaporated milk
1 egg yolk
1 teaspoon salt
1 small garlic clove, grated
1 tablespoon butter
8 ounces 2 percent milk grated white cheddar cheese
4 ounces light cream cheese, softened
1 cup panko breadcrumbs
1 tablespoon olive oil
Directions:
Bring a large pot of water to a boil. Cook pasta according to package directions. Add frozen broccoli to the pasta in the last 2 minutes of cooking.
While the pasta is cooking, whisk evaporated milk, egg yolk, salt, and garlic together in a medium bowl.
Reserve a small cup of pasta water. Drain pasta and broccoli and return to pot.
With the heat on low, add evaporated milk mixture and butter to the pasta. Stir until the pasta is completely coated and then add cheeses, stirring until melted and creamy. If necessary, add a little pasta water to loosen up the sauce. Season with salt and pepper.
In a small pan, mix panko and olive oil together. Cook over medium heat until brown, about 3 minutes. Sprinkle over macaroni and cheese.
More Daily Flavor
Chorizo macaroni and cheese
Broccoli chicken macaroni and cheese
Pancetta mac and cheese panini