Gourmet vegetarian pizza
Ditch the marinara sauce and use brown butter on this butternut squash pizza for tons of delicious nutty flavor.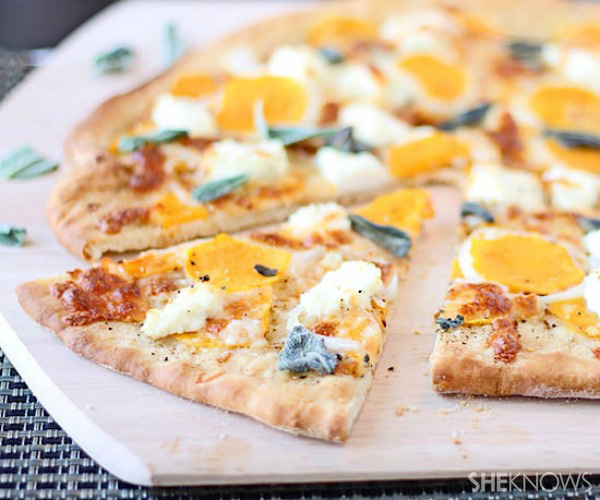 With three kinds of cheese and plenty of brown butter, this vegetarian pie puts a gourmet twist on pizza night.
Butternut squash pizza with brown butter sauce recipe
Makes 1 (12 inch) pizza
Ingredients:
1 small butternut squash, thinly sliced into discs (about 2 cups)
3 tablespoons unsalted butter
Salt
1/2 pound pizza dough
Cornmeal, for dusting
1 cup shredded low-fat mozzarella cheese
1/4 onion, sliced
1/2 cup grated Parmesan cheese
1/2 cup ricotta cheese
10 sage leaves
Salt
Pepper
Directions:
Preheat oven to 550 degrees F and place a pizza stone on the middle rack to heat while you make the pizza.
Blanch the butternut squash. Fill a medium saucepan with water and bring to a boil. Cook squash for 2 minutes. Remove from heat and immediately place squash in a bowl of ice water. Drain and pat squash dry with a paper towel and set aside.
Melt butter in a small pan over medium heat, swirling the pan until butter is a deep brown and smells nutty. Remove from heat, season with salt and set aside.
Dust a pizza peel with cornmeal. Roll dough out into about a 12-inch circle and place on pizza peel.
Spread the brown butter over the dough leaving a small edge of crust. Place 3/4 of sliced butternut squash on the dough and season with salt. Cover with mozzarella, onion and Parmesan cheese. Place remaining squash over cheese. Dollop ricotta cheese and sage over the pizza. Season with pepper.
Slide pizza onto the hot stone and bake until brown and bubbly, about 10 minutes.
TIP
Not sure how brown your butter should be? Check out our step-by-step tutorial for making brown butter.
More Daily Flavor
Hawaiian barbecue chicken flatbread pizza
Vegan mozzarella cheese pizza
Barbecue chicken pizza