Skinnier Mexican-style breakfast
You don't need to feel bad about indulging in this skinny version of chilaquiles with chorizo and eggs for breakfast.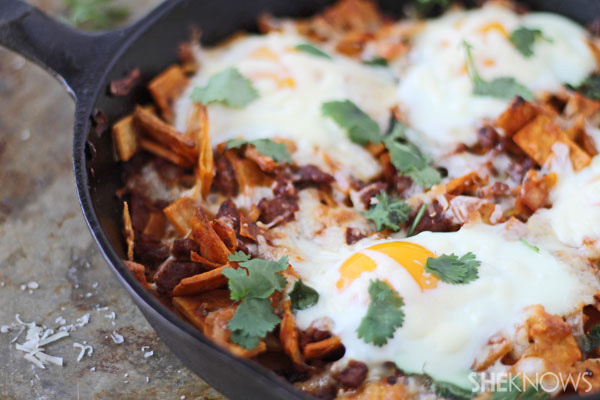 Have a hearty Mexican-style breakfast with less guilt by baking your chilaquiles instead of frying.
Baked chilaquiles with chorizo and eggs recipe
Serves 4
Ingredients:
5 corn tortillas
Olive oil, plus extra for cooking
Pinch of salt
4 ounces chorizo
1/4 onion, chopped
1/2 cup enchilada sauce, homemade or store-bought (see below for recipe)
1/2 cup low-fat mozzarella cheese, shredded
4 eggs
Chopped cilantro, for garnish
Directions:
Preheat oven to 325 degrees F.
Cut tortillas in half and then slice into 1/2-inch strips. Coat lightly in olive oil and season with salt. Spread strips evenly on a rimmed baking sheet and bake for 10-15 minutes until crispy and brown, tossing halfway through. Remove from oven and set aside.
In a cast iron or large nonstick skillet, heat a drizzle of olive oil over medium-high heat. Cook chorizo and onion until chorizo is cooked through.
Toss 1/2 cup of enchilada sauce and crispy tortillas into the skillet with the cooked chorizo. Spread the mixture evenly in the skillet, top with cheese, and then make four pockets for the eggs to sit in.
Crack eggs into pockets and put the skillet in the oven. Cook until egg whites are cooked through but yolks are still runny, about 10-15 minutes. Garnish with cilantro, if desired, and serve immediately.
Homemade enchilada sauce recipe
Yields about 2 cups
Ingredients:
1/4 cup diced onion
1 garlic clove, minced
1 tablespoon olive oil
4 ounces tomato paste
1-1/2 cups low-sodium chicken stock
3 teaspoons chili powder
1/4 teaspoon chipotle powder
1/2 teaspoon oregano
1/8 teaspoon ground coriander
1/4 teaspoon garlic powder
3 teaspoons apple cider vinegar
1 teaspoon salt
Directions:
In a small saucepan over medium heat, saute onion and garlic in olive oil. Stir in remaining ingredients.
Bring to a boil, then reduce to a simmer for 20 minutes. Season with additional salt, as needed.
More Daily Flavor
Skinny creamy chicken enchiladas
Baked chipotle cheese fries
Skinny shrimp-stuffed jalapeño poppers