Skating In A Winter Wonderland
There will be plenty of smiles at your next winter wonderland party when you present a platter of playful, ice skating penguin cookies.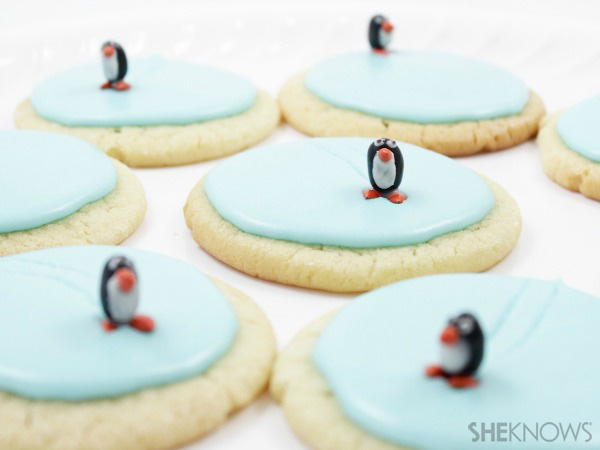 Simple, frosted sugar cookies turn into mini ice skating rinks when you adorn them with jellybean penguins, skimming across the tops.
For this tutorial, you can try my favorite sugar cookie and royal icing recipe, or you can use your own.
Video tutorial
Ice skating penguin cookies
Yields approximately 36 cookies
Ingredients and supplies:
For the sugar cookies
1 cup sugar
1 cup powdered sugar
1 cup butter
1 cup oil
2 eggs
1 teaspoon cream of tartar
1 teaspoon salt
1 teaspoon baking soda
4-1/2 cups flour
1 tablespoon vanilla extract
1 teaspoon almond, lemon or raspberry extract
For the royal icing
6 cups powdered sugar
1 cup milk
1/4 cup softened butter
Blue food coloring
Squeeze bottle
For the penguins
36 black jellybeans (or Junior Mints, chocolate-covered almonds, black peanut M&M's)
108 orange chocolate-covered sunflower seeds
White candy melts
Black food coloring marker
Toothpicks
Directions:
In an electric mixer, cream sugars with butter. Beat in eggs and oil. Combine dry ingredients. Gradually add to wet mixture. Stir in extract. Cover the dough and refrigerate overnight or for at least 2 hours.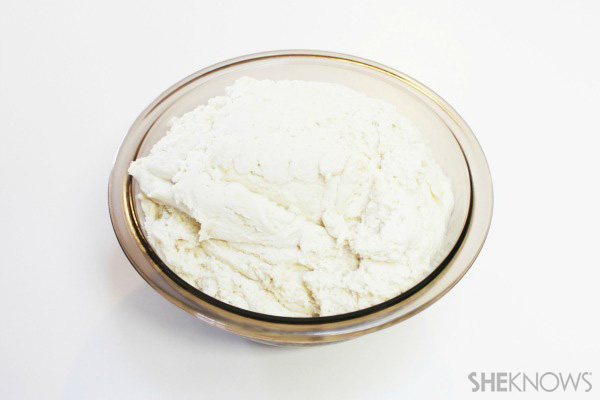 Preheat oven to 350 degrees F. Line baking sheets with parchment paper. Roll dough into 2-inch balls and place on parchment paper. Press the dough balls flat using the bottom of a drinking glass, dipping the glass in sugar each time before pressing. Bake for 12 minutes.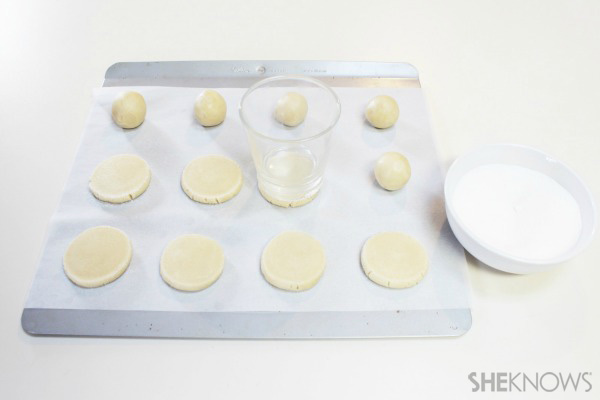 Make the royal icing. Mix powdered sugar, milk and softened butter together until smooth. Add blue food coloring and tint to desired shade. Pour into empty squeeze bottle. To frost cookies, squeeze icing onto the center of the cookie and rotate outward, stopping well before the edge. Icing will flatten and smooth. Allow to dry and harden.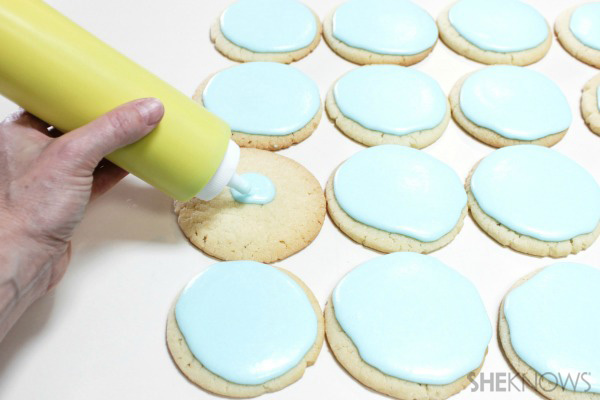 3
Prep ingredients for penguins
Using a sharp knife, carefully slice the pointy tips off of 36 orange chocolate-covered sunflower seeds to make penguin beaks. Melt approximately 3 ounces of white candy melt in the microwave.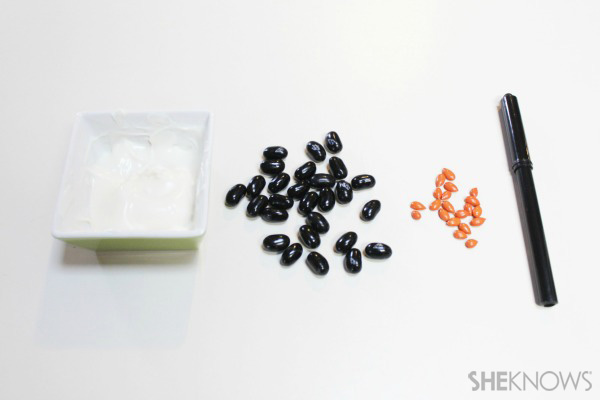 Using a toothpick, paint ovals of candy melt onto the black jellybeans to make the penguin stomach. Attach the orange beaks to the top of the candy melt oval. Add two more dabs of candy melt for the eyes. Allow to dry and harden. Add black dots to the eyes with a food-coloring marker.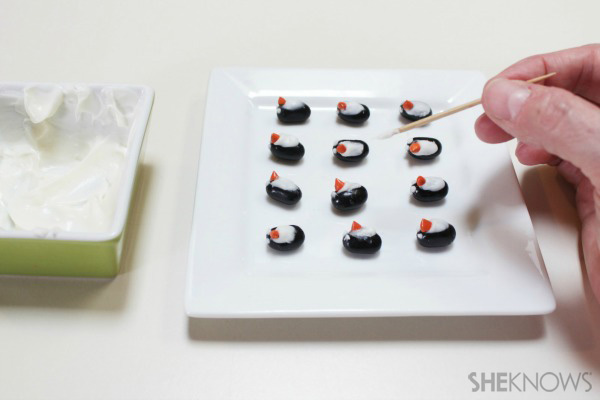 5
Attach penguins to cookies
Put two orange sunflower seeds on each frosted cookie for the penguin's feet. Put a dab of white candy melt on top of the sunflower seeds and attach a finished penguin to the cookie. Allow it to dry and harden.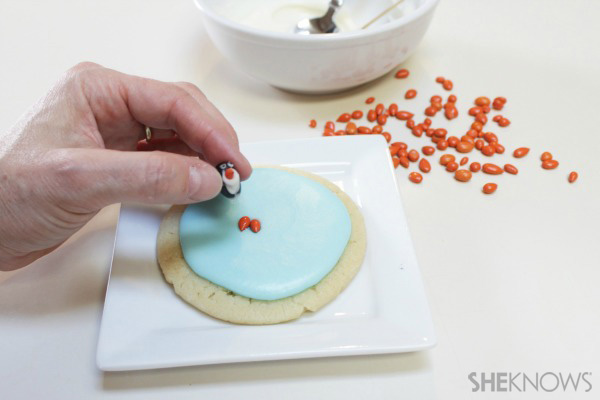 6
Add skating lines to icing
Using another toothpick, etch "ice skating lines" behind each penguin on the hardened royal icing.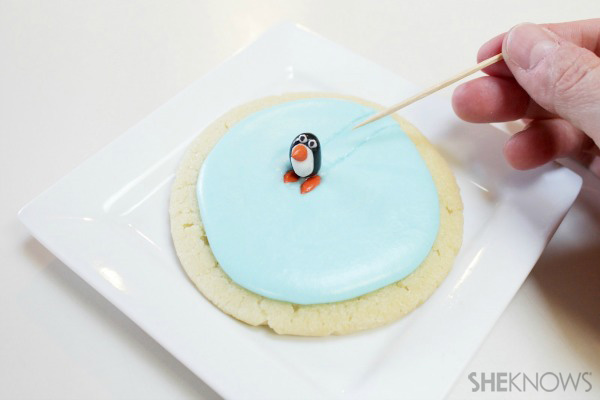 7
Display your ice skating penguins
Watch your penguins take a spin on their personal ice skating rinks!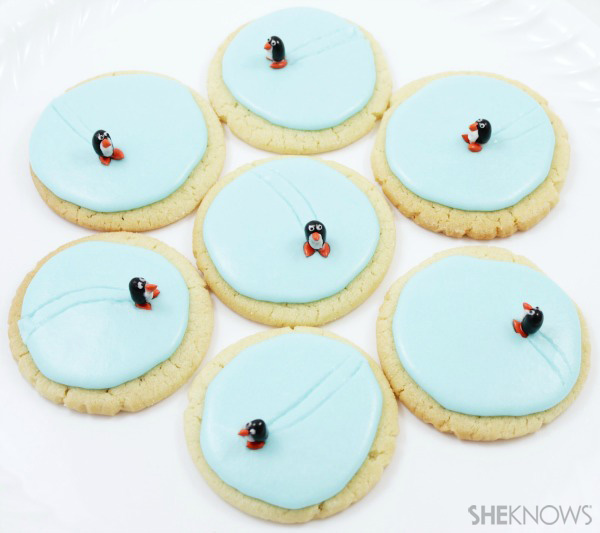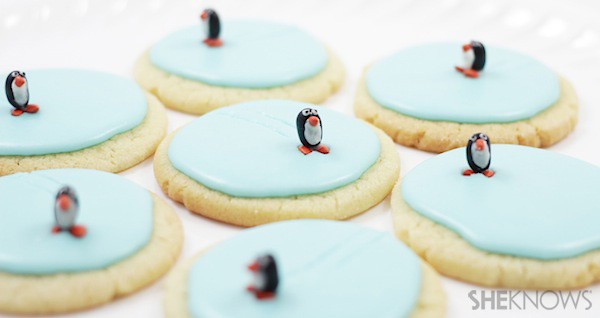 More wintery food crafts