Less guilt, tons of flavor
Looking for a lightened up game day snack or cocktail party bite? We've got you covered with skinny shrimp-stuffed jalapeño poppers.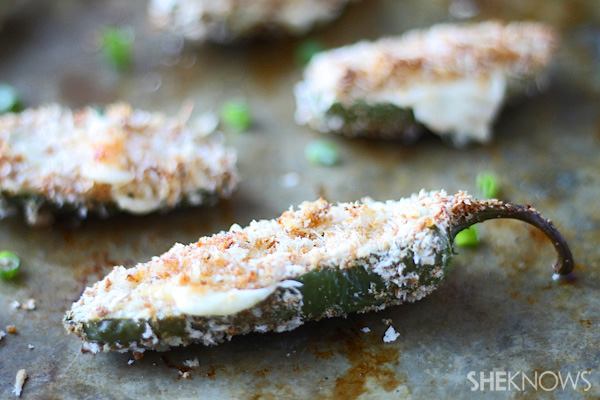 You won't feel bad about indulging in this skinny appetizer, and it's a good thing because these jalapeño poppers are addictive.
Skinny shrimp-stuffed jalapeño poppers recipe
Makes 20
Ingredients:
3 strips reduced-fat bacon, cooked and chopped
2 green onions, chopped
6 ounces reduced-fat cream cheese, softened
1/2 cup shredded mozzarella cheese
1/2 teaspoon garlic powder
4 ounces bay shrimp or other chopped cooked shrimp
2 egg whites
3/4 cup panko breadcrumbs
1/2 cup whole wheat breadcrumbs
10 medium-size jalapeños, sliced lengthwise and seeded
Salt
Pepper
Olive oil
Directions:
Preheat oven to 425 degrees F. Place a wire rack on top of a rimmed baking sheet.
Combine bacon, green onions, cream cheese, mozzarella cheese and garlic powder in a small bowl. Season to taste with salt. Fold in shrimp.
In a small bowl whisk egg whites until they become frothy.
In another small bowl, combine panko and whole wheat breadcrumbs. Season with salt and pepper, to taste.
Fill each jalapeño with cream cheese mixture. Coat with egg white and then breadcrumbs.
Place breaded jalapeños on the wire rack and then place in the freezer for 15 minutes. Once the poppers have chilled, drizzle with olive oil and bake for 20-25 minutes until browned and the cheese is oozing out.
More Daily Flavor
Grilled cheese roll-ups
Bacon-wrapped dates
Baked chipotle cheese fries