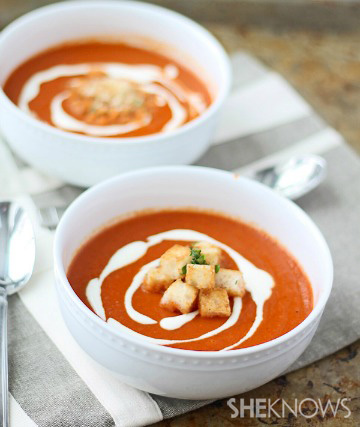 Simple soup with big flavor
You don't need to spend hours in the kitchen with lots of complicated ingredients to get tons of flavor in a dish. This roasted red pepper soup has just five ingredients.
If you've got a little extra time, amp up this already delicious bowl of soup by adding a decadent swirl of goat cheese cream and a handful of homemade buttery croutons.
Roasted red pepper soup with goat cheese cream & buttered croutons recipe
Serves 4 
Ingredients:
For the soup
6 red bell peppers
2 ounces goat cheese
1 teaspoon salt
2 cups chicken stock, plus more if needed
1/4 teaspoon pepper
For the croutons
1 tablespoon unsalted butter
2 (1/2-inch) slices of day-old Italian bread, cut into small cubes
Salt
For the goat cheese cream
3 ounces goat cheese
3 tablespoons half-and-half, plus more if needed
Directions:
For the soup
Roast the bell peppers. Place peppers over a gas flame and char all sides of the pepper (there should be no red showing). After charring is complete, transfer peppers to a bowl and cover with plastic wrap. Let sit for 15-20 minutes, then remove charred skin, ribs and seeds from peppers.
Transfer peppers to a blender and blend until smooth. Add goat cheese and salt; blend until smooth.
Transfer pureed pepper mixture to a medium stockpot and add chicken stock and pepper. Bring to a boil and then reduce to a simmer for 15 minutes. If the soup is too thick after it simmers, add a little more stock until desired consistency is reached. Check seasonings.
While soup is simmering make croutons and goat cheese cream.
For the croutons
Melt butter in a small nonstick pan. Add bread cubes and coat in butter. Cook until light brown and toasted. Season with salt.
For the goat cheese cream
In a blender, combine goat cheese and half-and-half until creamy. Adjust consistency by adding more half-and-half, as needed.
To serve
Ladle soup into bowls. Swirl in goat cheese cream and top with croutons.
More Daily Flavor
Vegan spicy pumpkin soup
Creamy chicken and wild rice soup
Butternut squash bisque