Homemade tater tots
Kids and adults alike will love these homemade loaded tater tots full of cheese and sour cream.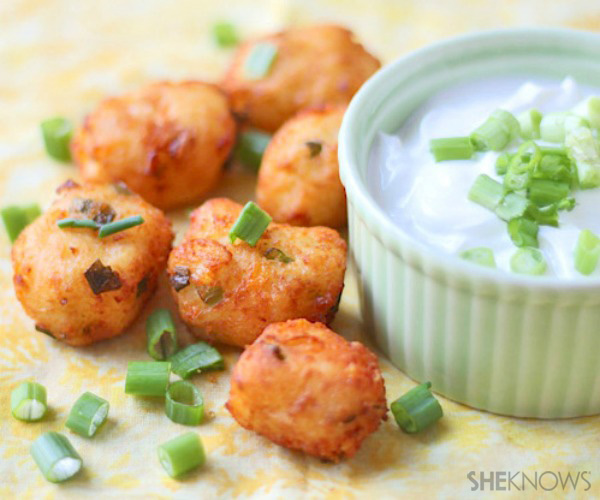 No need to buy the frozen bags of tater tots when they're this easy to make at home! Add crumbled bacon to beef these up even more.
Can't get enough tater tots? Try these tater tot nachos >>
Loaded baked potato tater tots recipe
Yields about 30
Ingredients:
Canola oil
1-1/2 pounds russet potatoes, baked
1/2 egg
1/4 cup flour
1 cup shredded sharp cheddar cheese
2 green onions, finely chopped, plus more for garnish
1/4 cup sour cream, plus more for serving
1/2 teaspoon salt
Directions:
Heat about 2 inches of canola oil in a large deep pot or deep fryer to about 375 degrees F.
Peel the skin off the warm potatoes. Grate the peeled potatoes into a bowl.
Add the egg, flour, cheese, green onions, sour cream and salt to the potatoes, mixing until just combined. Do not overmix.
Form into tater tot shapes. Place on a baking sheet and chill in the freezer for 10 minutes.
Working in batches, fry about 6 at a time, until golden brown and hot throughout. Drain on paper towels.
Serve immediately with sour cream and chopped green onion.
TIP
To measure half an egg, crack the egg into a small measuring cup, whisk and pour out half.
More Daily Flavor
Baked potato wedges with Italian dressing
Baked chipotle cheese fries
Baked garlic truffle fries