Warm up with a bowl
of chicken soup
There's nothing like a hot bowl of chicken soup to warm you up on a cold night. Add plenty of veggies and wild rice to make this a one-pot dinner.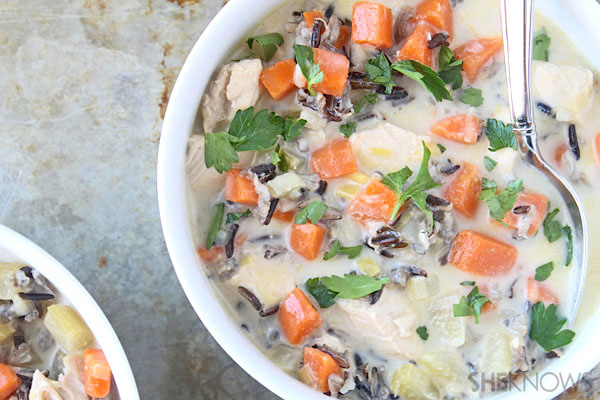 Cozy up in front of the fire with a hearty bowl of chicken and rice soup. You'll be making this easy recipe all winter.
Creamy chicken and wild rice soup recipe
Serves 4-6
Ingredients:
1 tablespoon butter
1 tablespoon olive oil
2 large carrots, peeled and diced
3 large celery stalks, diced
1/2 large onion, diced
1 bay leaf
2 tablespoons flour
1/4 cup dry sherry
1/2 cup wild rice
1-1/2 pounds cooked chicken, diced (about 3 breasts)
32 ounces low-sodium chicken broth
1 cup water
1/2 teaspoon salt, plus more to taste
Splash of cream (optional)
Directions:
In a large stockpot, heat butter and oil over medium heat. Add carrots, celery, onion and bay leaf. Cook until vegetables begin to soften, about 5 minutes. Sprinkle mixture with flour. Cook, stirring, 1 more minute.
Add sherry, rice, chicken, broth, water and salt. Bring to a boil, then reduce to a simmer until rice is cooked through, about 45 minutes.
If desired, finish with a splash of cream and add salt, as needed.
More Daily Flavor
Vegan spicy pumpkin soup
Chicken noodle soup in a bread bowl
Chicken tortilla soup