Easy comfort
food for dinner
Sit down to a hearty bowl of slow cooker beef bourguignon that takes only minutes to prepare.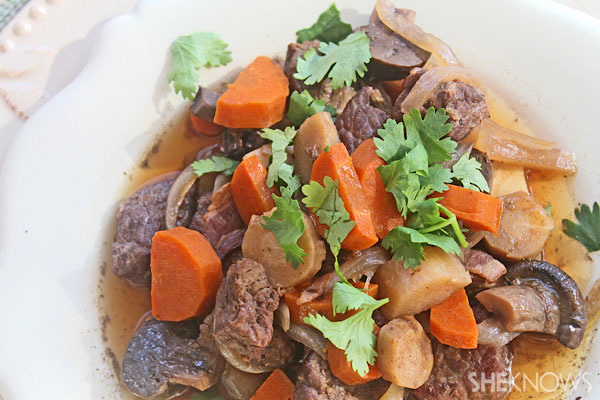 Throw this slow cooker meal together in the morning, and you'll come home to a delicious pot of tender beef bourguignon, full of veggies and rich red wine sauce.
Slow cooker beef bourguignon recipe
Serves 6
Ingredients:
1 tablespoon olive oil
2-1/2 pounds beef stew meat
2 strips bacon, chopped
1 tablespoon tomato paste
2 cups chopped carrots
2 cups chopped parsnips
10 ounces mushrooms
1/2 medium onion, sliced
1/2 bottle red wine (like merlot or pinot noir)
1 cup beef stock
1/2 bouillon cube
2 tablespoons flour
1-1/2 cups frozen cipollini onions
Cooked egg noodles (optional)
Chopped parsley, for garnish
Directions:
In a large pan over medium-high heat, add olive oil and brown meat and bacon until all sides are brown.
Transfer beef mixture to a slow cooker. Add tomato paste, carrots, parsnips, mushrooms, sliced onion. Toss together. Add wine, stock, bouillon cube and flour. Cook for 7-8 hours on low heat.
20 minutes before serving, add frozen cipollini onions to the slow cooker.
Serve over egg noodles, if desired, and garnish with parsley.
More Daily Flavor
Quick chicken Marsala
Butternut squash and roasted garlic bisque
Potato leek soup