Spiced up french fries
Amp up a boring plate of fries with spicy chipotle cheese sauce, cilantro and Mexican crema.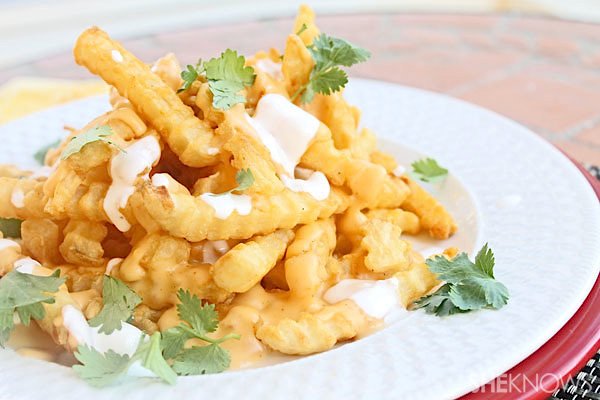 Take a shortcut for dinner tonight. Make this super-flavorful dish in a hurry by using premade frozen crinkle fries. Don't worry, we won't tell!
Baked chipotle cheese fries recipe
Serves 4
Ingredients:
1/2 package (about 16 ounces) frozen crinkle fries
2 cups shredded cheddar cheese
1 tablespoon cornstarch
5 ounces evaporated milk
1/4 teaspoon + 1/8 teaspoon chipotle chili powder
Salt
Chopped cilantro
Mexican crema (or sour cream thinned out with a little milk)
Directions:
Bake fries according to package directions.
In a medium saucepan, toss cheese with cornstarch. Add milk. Turn heat to medium-low and slowly melt cheese. Stir in chipotle powder. Sauce is done when cheese is melted and silky smooth. Season with salt and more chipotle powder if necessary.
Layer half of the fries on a serving platter. Cover with half of the cheese sauce. Top with remaining fries and cover with remaining cheese sauce.
Garnish with cilantro and crema.
More Daily Flavor
Asian-style chicken nuggets
Baked garlic truffle fries
Hawaiian barbecue chicken taquitos