Fresh, healthy side dish
This fresh cucumber salad with chickpeas, farro and hazelnuts has plenty of crunch and delicious nuttiness.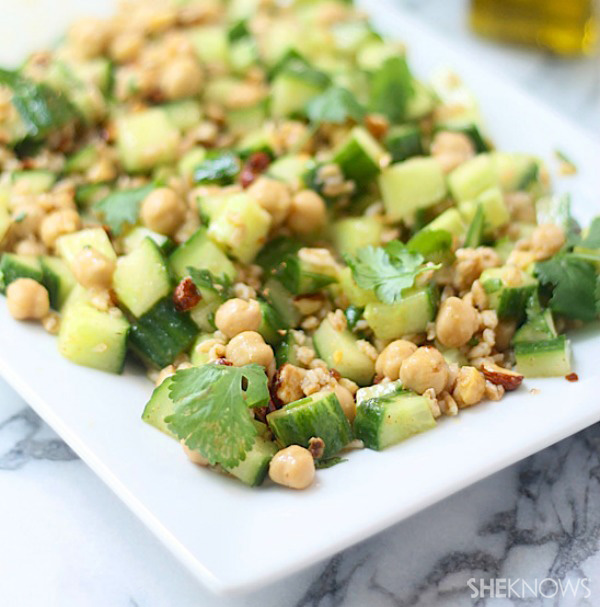 Healthy eating is easy with quick recipes like this cucumber salad, and it's a great way to use up leftover farro.
Cucumber salad with chickpeas, farro and hazelnuts recipe
Serves 4-6
Ingredients:
1/4 cup chopped hazelnuts
2 cups chopped seeded cucumber
3/4 cup canned garbanzo beans, drained and rinsed
1/2 cup cooked farro
Juice of 1 lemon
1/4 teaspoon cumin
1/4 teaspoon paprika
1/4 teaspoon garlic powder
1/4 teaspoon salt, plus more as needed
2 tablespoons olive oil
Black pepper, as needed
Chopped cilantro
Directions:
In a small pan, toast hazelnuts over low heat until they become fragrant. Remove from heat.
In a medium bowl, toss cucumber, garbanzo beans, farro and toasted hazelnuts to combine.
Make the dressing. In a small bowl, whisk lemon juice, cumin, paprika, garlic powder and salt together. Slowly whisk in olive oil.
Toss vinaigrette with cucumber mixture. Season with salt and pepper. Sprinkle with chopped cilantro.
More Daily Flavor
Kale salad with Meyer lemon vinaigrette
Asian pasta salad
Chinese chicken salad