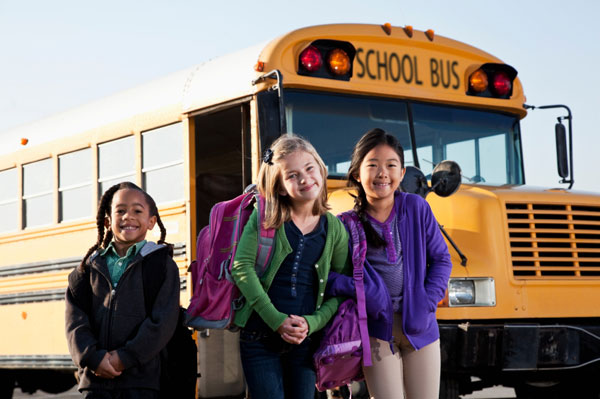 Stop the madness
Your child's bus ride to and from school is full of potential pitfalls for both child and lunch box. Make sure your precious cargo arrives safely at school with their precious lunch for a smooth day at school.
Problem #1: The contents are crunched
If multiple children are crunched into every seat of the bus, there's a good chance that the contents of your kid's lunch will arrive at school looking rather mangled.
Solution: Find an awesome lunch box with a hard exterior. We like vintage metal lunch box styles with old-school superheroes for younger kids, or a straightforward hard-shelled plastic lunch box for older kids.
Problem #2: A lonely lunch box, left on the bus seat
Kids are notoriously forgetful. There's a pretty good chance that at some point before graduation, your child will leave their lunch box on the school bus. Forgetfulness is a major bummer at lunchtime and when you have to buy a new lunch box.
Solution: You don't need to tether the lunch box to your child's wrist, although we suppose that's an option. Just make sure you clearly label the item so it can be returned at some point. We like Name Bubbles personalized labels for this purpose, available online starting at about $18.
Problem #3: After-school munchies
Children sometimes have to ride a bus for nearly an hour before they are let out at their stop. A lengthy ride can interfere with a much-needed after-school energy boost. If your child misses an afternoon snack because of the bus ride, they may arrive home ravenous.
Solution: Include a nutritious and energizing after-school snack in your kid's lunch box and let them know ahead of time that they should save the snack for the ride home. Think about packing a serving of trail mix, cheese sticks or a protein bar rather than cookies or chips.
Problem #4: Too much teasing
Bullying at school is a very serious problem and that problem can extend to the bus ride. Unfortunately, drivers are sometimes too busy focusing on the road to adequately police the riders. Bullies can fixate on anything, of course, but sometimes they fixate on apparel and accessories like lunch boxes. Sometimes, older kids are bullied just for bringing a lunch from home rather than money for the cafeteria.
Solution: Bullying isn't easily solved. If your child is picked on during a bus ride, the main thing you need to do as a parent is intervene with administration. But if your child is being teased about one apparel item, like their lunch box, have them pick out a style they feel good about rather than just telling them to "suck it up." Older kids may just want to bring a brown bag in their backpack.
Problem #5: The dreaded lunch swap
We know how much thought you put into a nutritious lunch for your child. You meticulously chop celery and carrots for delightful vegetable dippers and maybe you even pack a baggie of homemade granola. That's swell. Unfortunately, your child may swap it all out for Cheetos and Fruit Snacks before the tardy bell rings.
Solution: Pack a nutritious lunch that's un-swappable. Easier said than done, right? Not really. Ask your child to pick out the foods they want to eat in their school lunch and make sure they're nutritious by asking them to choose between three or four healthy options. If they chose the contents of the lunch, they're less likely to swap them out.
More from Quick & Easy Recipes
5 Comforting care packages
Soup's on: How to send soup to school
8 Totally upgraded sippy cups