Homemade wheat meat
If you've never tried seitan that you're crazy about, this homemade version will change your mind. Spicy seitan skewers are perfect for the grill.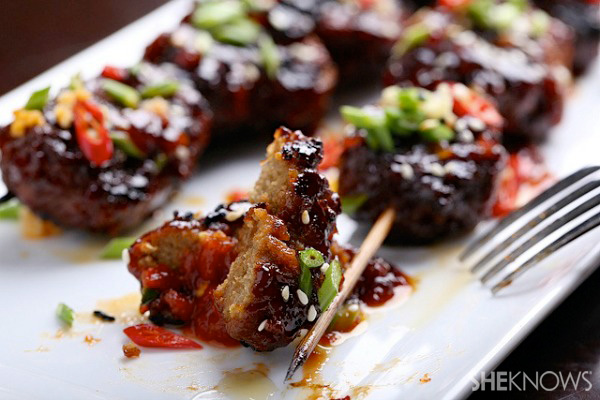 Seitan, or wheat meat, is a vegan's answer to barbecued skewers. Marinated chunks of homemade seitan get spiced up with a Sriracha glaze for a grilled meal that will knock your socks off.
Homemade spicy grilled seitan skewers recipe
Marinade recipe adapted from Bon Appetit
Serves 4
Ingredients:
For the seitan
1 cup vital wheat gluten
1/4 cup whole wheat pastry flour
1/2 cup chickpea flour
1 cup cold vegetable broth
2 tablespoons dark sesame oil
1 tablespoon white or chickpea miso
1 tablespoon fermented black bean sauce
Olive oil
For the simmering broth
6 cups cold vegetable broth
3-4 garlic cloves, smashed
2 tablespoons soy sauce
2 tablespoons raw agave
1 cup ice cubes
For the marinade
1 cup brown sugar
1 cup rice vinegar
2/3 cup sambal oelek
1/2 cup Sriracha sauce
2 tablespoons vegan Worcestershire sauce
1 tablespoon grated ginger
Directions:
To make the seitan, combine the vital wheat gluten, whole wheat pastry flour and chickpea flour in the bowl of an electric mixer.
In a separate bowl, whisk together vegetable broth, sesame oil, miso and fermented black bean sauce, then add it to the flour mixture.
Using the dough hook attachment, knead mixture for 1 minute to form a cohesive ball of dough. Tear off small, jagged skewer-sized pieces and reserve. (The pieces will double in size during cooking.)
Make the simmering broth. In a medium saucepan, combine the vegetable broth, garlic, soy sauce, agave and ice cubes. Do not turn on the heat. The broth should be very cold when you add the seitan.
Add enough olive oil to cover the bottom of a cast iron pan or other nonstick pan. Heat the oil over medium heat. Place the seitan chunks in the pan and brown on both sides. Transfer to a plate to cool.
Drop the cooled seitan into the broth. Bring to a very low simmer, then maintain the heat for about 45 minutes. Cover with a lid that allows some steam to escape during cooking time. Do not allow the broth to boil at any time as it will affect the texture of the seitan, making it spongy.
To make the marinade, add all of the marinade ingredients in a saucepan. Toss the seitan in the marinade, then thread onto skewers. (If you are using wood skewers, soak them in water first for about an hour to prevent them from burning.)
Bring the remaining marinade to a low boil, reduce the heat, and allow to simmer and thicken for 7-10 minutes.
Preheat a grill. Grill the seitan skewers, turning and basting often with the reduced marinade. Serve immediately, drizzling any extra sauce over the top.
NOTE
The seitan can be made ahead, simmered and stored in the broth until ready to grill.
More Daily Flavor
Vegan shiitake bacon
Spicy vegan sausage
Sriracha vegan Buffalo wings