Chinese take-out at home
This sweet and sour stir-fry is full of vegan chicken and loaded with veggies for a hearty, healthy meal.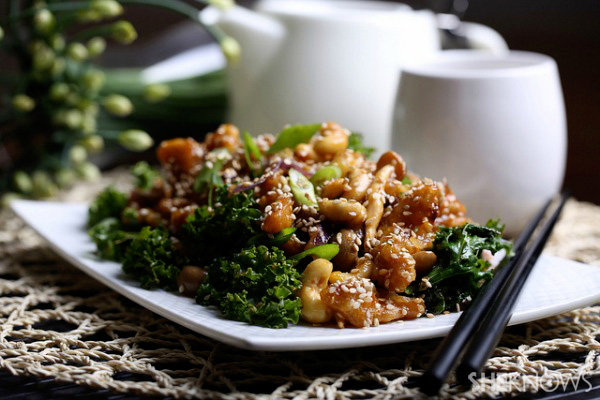 If you've been craving sweet and sour chicken but your local Chinese restaurant doesn't have a vegan option, look no further. This vegan "chicken" stir-fry tastes just like the real thing.
Sweet and sour crispy vegan "chicken" stir-fry recipe
Serves 2
Ingredients:
For the "chicken"
1 cup Butler Soy Curls
1-1/2 cups Imagine Brand No-Chicken broth
4-5 cloves garlic, smashed
For the sauce
1 tablespoon sesame oil
2 tablespoons soy sauce
1 teaspoon rice vinegar
1 tablespoon Sriracha sauce
1 teaspoon grated fresh ginger
2 tablespoons raw agave
1 tablespoon cornstarch, whisked with 2 tablespoons cold water
For the vegetables
1/2 yellow onion, halved and sliced
5 large curly kale leaves, ribs removed and ripped into pieces
Handful of cashews
1/2 cup mushrooms, whole or sliced, depending on type
2 scallions, sliced
For frying
1-1/2 teaspoons Ener-G, whisked with 5 tablespoons cold water, in a large and shallow bowl
1 cup cornstarch, in a large and shallow bowl
Vegetable oil
For serving
Rice or noodles
Sesame seeds
Directions:
For the "chicken"
In a small saucepan, combine the soy curls, broth and smashed garlic. Bring to a low boil over medium heat, then turn the heat off. Allow the soy curls to sit in the hot liquid for about 10 minutes.
Drain the soy curls through a fine mesh strainer, reserving the leftover liquid for the sauce. Place the soy curls on a towel and cover with another towel. Put a heavy pan or pot on top to get some of the moisture out while you prepare the sauce and vegetables.
For the sauce
Place the reserved broth, sesame oil, soy sauce, rice vinegar, Sriracha, ginger and raw agave into the same saucepan over low heat for about 10 minutes.
Increase the heat to medium-high. Once it starts to bubble, add in the cornstarch mixture and stir constantly until slightly thickened, about the consistency of maple syrup. If it doesn't thicken up after a minute or so, mix a little more cornstarch with water and repeat.
For the vegetables
In a large saucepan over medium-low heat, add a little oil and saute the onion, kale, cashews, mushrooms and scallions, stirring occasionally until tender.
For frying
Place plenty of vegetable oil (at least 5 inches) into another small saucepan over medium-high heat.
When ready to fry, place the soy curls into the Ener-G mixture, then toss them into the cornstarch, coating well and tapping off any excess. Working in small batches, gently drop the coated soy curls into the oil, piece by piece, being careful not to overcrowd the pan. Allow to fry for 3-4 minutes, then remove them from the oil using a skimmer. Place them onto paper towels to drain. Repeat the process until all of the soy curls are fried.
To serve
Toss the fried soy curls into the sauce and stir gently to coat. Sprinkle with sesame seeds. Place the vegetables into a bowl, then spoon the fried soy curls over the top. Serve immediately with rice or noodles.
More Daily Flavor
Spicy vegan "scallop" roll
Sweet and sticky cashew tofu
Sriracha vegan Buffalo wings