Bite into a vegan burger
Forget those flavorless frozen veggie burgers… make your own vegan burgers at home with lentils, mushrooms and pistachios.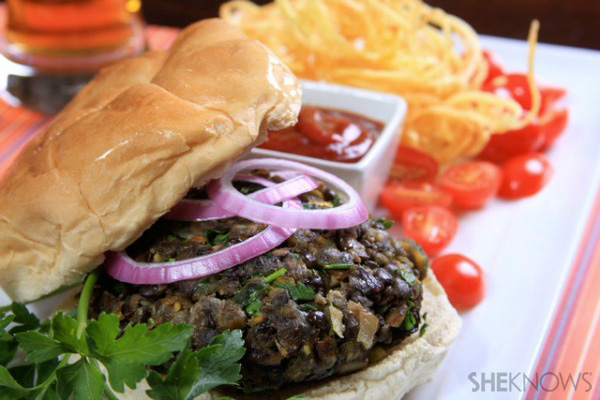 Next time you're craving a big, juicy burger, sink your teeth into this tasty vegan version. Serve it with a big pile of crispy fries to complete this burger joint-inspired meal.
Black lentil, pistachio and shiitake mushroom burger recipe
Yields 4
Ingredients:
3 shallots, diced
2 teaspoons olive oil
1/2 cup black lentils, rinsed
5-7 dried shiitake mushroom caps
1/2 cup pistachios
1/4 cup fresh parsley, chopped
1/4 cup vital wheat gluten
1 tablespoon Ener-G, whisked with 1/8 cup water
2 teaspoons dried rubbed sage
1/2 teaspoon salt
1/4 teaspoon freshly cracked black pepper
4 hamburger buns
Directions:
In a saucepan, bring 3 cups of water to a boil. Meanwhile, in a small skillet over low heat, saute the shallots in olive oil to caramelize.
When the water comes to a boil, add the lentils and dried shiitake caps. Place the cover over the pot so some steam can escape during cooking. Boil for 18-20 minutes, then pour through a fine-mesh strainer to drain and cool. Once cooled, remove the shiitake caps and dice them, discarding the tough stems.
Place the pistachios into a food processor and coarsely grind.
By this time, the shallots should be caramelized. In a large bowl, add the shallots, lentils, diced shiitake caps, pistachios and parsley. Mix until well combined. Add the vital wheat gluten and stir, then add the Ener-G mixture and stir for about 2 minutes with a fork to allow the gluten to develop. Add in the sage and salt and pepper and stir until well combined. At this point you can place the mixture in the refrigerator for a few hours or fry the burgers immediately.
To fry the burgers, shape mixture into patties, slightly squeezing the mixture together as you are shaping it. Fry in a skillet with a little olive oil for 2-3 minutes on each side, or until it is slightly browned.
Place fried burgers on buns and top with desired toppings and condiments.
More Daily Flavor
Sriracha vegan Buffalo wings
Vegan shiitake bacon
Buffalo chickpea soft tacos