Throw A Festive Theme Party This Holiday
What's more fun than a theme party? A holiday theme party, of course! If you're stumped on what type of seasonal shindig to host, these blogger-inspired ideas will leave you with a new decision: how many theme parties you can squeeze into one holiday!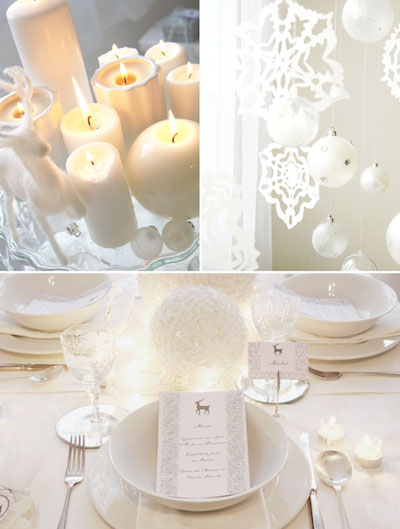 Bird of Bird's Party Blog was inspired by the song "White Christmas" to create this fabulous all-white party theme.
She says, "Inspired by snowfall and cozy winter days, I chose a white color palette to reflect a crisp, pristine but also very cozy look with a touch of glam — but without breaking the bank!"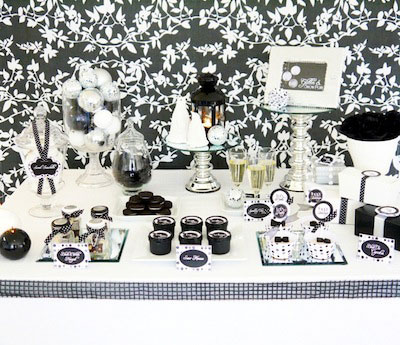 We're super-inspired by Bird to create a glam black-and-white Glitter and Snow New Year's Eve party like this one, where even Oreos on a white plate look über classy. Her tips are so easy, yet the outcome is so elegant!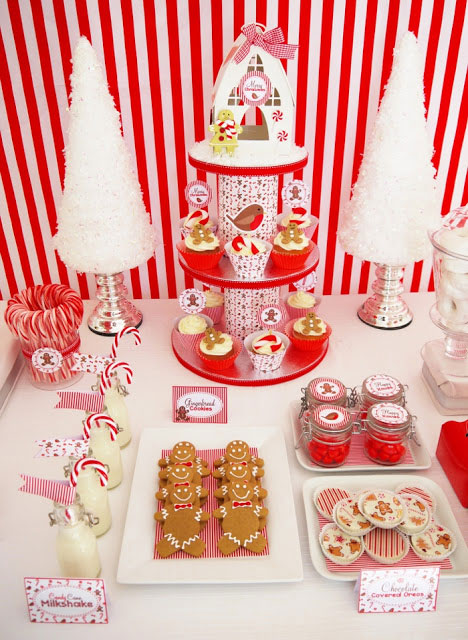 Bird is on point when it comes to creative theme parties that include the kids, too! Her candy cane–striped party is just so tempting for children — as well as the kid in even the most mature adult! Check out all her how-tos to re-create this party theme yourself.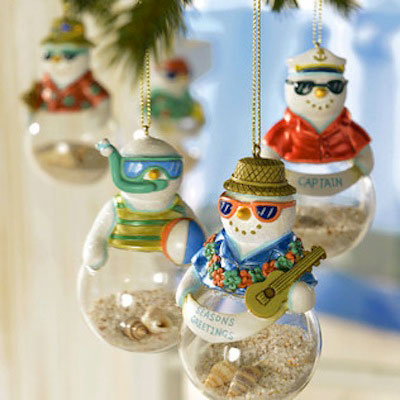 Kerry Gibson-Morris, head of home and kitchen and resident lifestyle expert at Zulily, suggests warming up your holiday bash by heading out west — at least when it comes to your theme.
She says, "A coastal Christmas–themed party is fun this season to bring some island vibes to a snowy winter. My favorite items to get this look are starfish ornaments, wreaths studded with seashells and of course, snowmen styled for the beach. Blend up some slushy drinks and serve some island-inspired dishes like coconut shrimp skewers and Hawaiian meatballs. Ask your guests to get in on the theme with Hawaiian T-shirts and flip-flops."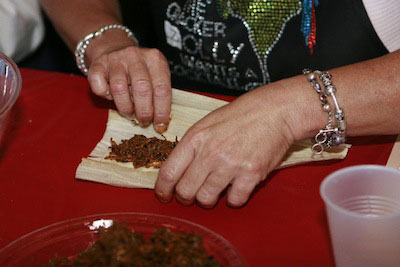 Invite your guests to join in the cooking this Christmas by hosting a tamale-making party!
Darlene Tenes of CasaQ says, "Nothing is more fun than to mix up a batch of sangria and gather a crowd to hand-roll Christmas tamales! The hostess prepares (or buys) the masa and filling and teaches everyone how to properly wrap and fold the tamale. It's a great way to have great conversation and share stories and laughs with family and friends. I have also had the group make Ensalada de Nochebuena and Buñuelos while the tamales are steaming. Then we all sit down to eat the fruits of our labor together!"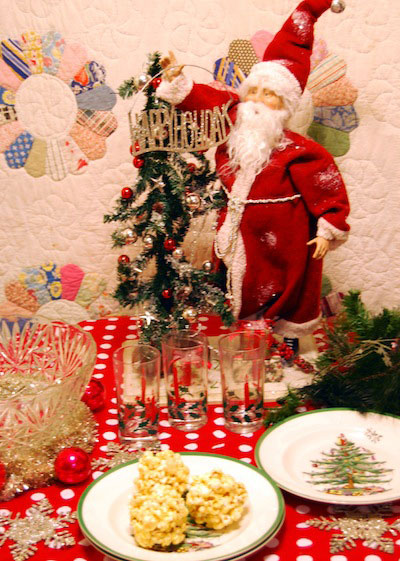 Take your holiday party back to a simpler time with a retro Christmas theme. Pamela McMurtry suggests cruising thrift stores for retro serving wear and opting for glitter and felt when it comes to decor. Serve a luncheon with old-school foods like ribbon sandwiches, potato chips, clam dip and ambrosia. And for fun, coordinate a cookie swap for the moms while the kids play Pin the Nose on the Reindeer or Duck, Duck Goose. Finish it all off by going caroling together!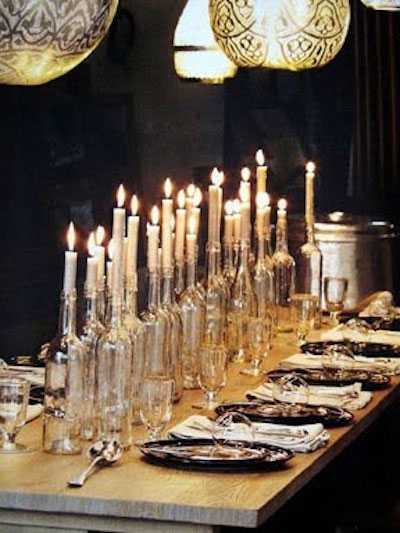 What's the best way to host a holiday theme party? Keep it simple. Pippa Lord, founder of Sous Style, applies her "KISS" (Keep it Simple, Sexy) method to every party she hosts.
According to Pippa, that means "Don't try too hard, stay within budget and make sure you elevate it with a few sexy details that fit within your theme."
One way to light up your table in a simple and sexy way? Stick taper candles into empty, clean bottles with the labels removed and run them along the length of the table, as Pippa did here.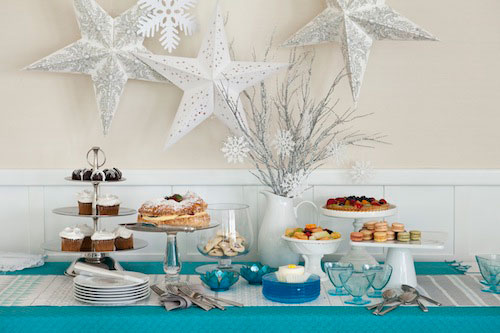 Sometimes, it's nearly impossible to coordinate all your family's and friends' schedules enough to plan a major party. An open-house theme is the perfect solution for those with super-busy schedules.
Catie Parrish, chief homemaker as well as content-creation manager for the Ideas & Advice section at Wayfair, says, "Since the holidays are such a busy season, sometimes friends want to give their greetings but can't commit to a whole night's event. This type of open-house party is ideal for guests just dropping by for a nibble and a hello. Set up a home bar nearby for those who wish to linger."
She styled this elegant dessert buffet table with a winter wonderland theme.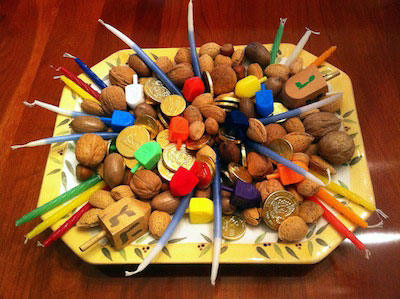 And speaking of busy schedules, why not take a shortcut when it comes to celebrating all these fall and winter holidays? Take a cue from Ellen Zimmerman of Jewish Holidays in a Box and her family who, due to the fact that Hanukkah came so early this year, combined the holiday with their Thanksgiving celebration and called it Thanksgivukkah. Combine your shared holidays with a unique theme all your own this season.
10
Baby, it's cold outside!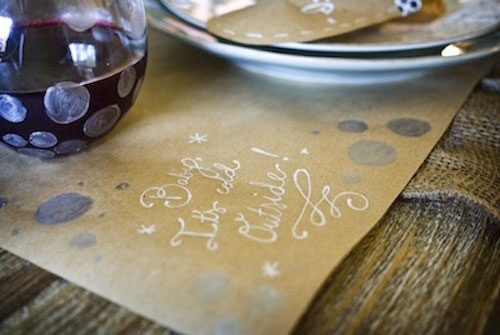 Brr! Shake off the cold with Create-ologie's Grace Levine and throw a theme party based on a classic Christmas song.
She says, "Throwing a holiday party that stands out is one of the great joys of the season. Picking your favorite song of the season is a great way to find your inspiration. We chose 'Baby It's Cold Outside' and decided to go with a snowy polka-dot theme. The table was accented with a burlap runner that we painted silver polka dots onto, as well as an embellished kraft paper place mat. One of my favorite accents is the hand-stitched mitten place card that also doubles as a treat pocket (we filled it with little biscotti to go with the hot cocoa favor)."
More holiday party fun
Kara Allen's modern Christmas party
"Up on the Housetops"–themed holiday party
Think outside the holiday box: 5 Fun seasonal soiree ideas