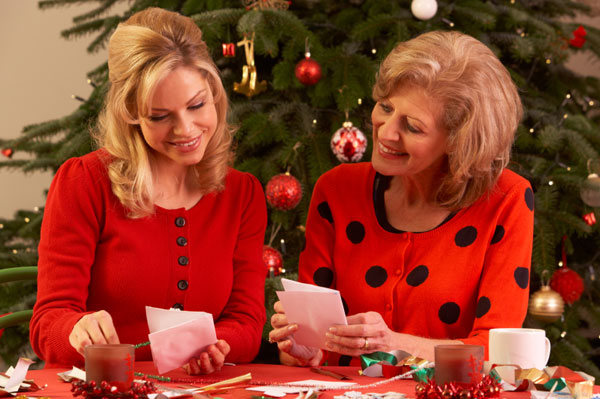 Display your holiday photos in festive ways
Let's face it: You only have so much room on your fridge for your holiday pictures — whether they are your own family's or photos sent in the form of photo holiday cards. Instead of crowding your kitchen with holiday photos, give them their own classy, fun and simple displays.
When the fridge gets too cluttered, you can't really get a good look at all the cute holiday photos, anyway. Display them in places where they are in full view without being crowded, and use them as part of your holiday decor. Prop them on the fireplace mantel or on extra shelves in between sprigs of pine or some oversize glass ball ornaments.
Ribbon hangers are super easy, and you can put them just about anywhere. Cruise the discount aisles of your local arts and crafts store for large ribbons in festive holiday colors. But don't just get tied into plain red and green. For example, white, silver and gold make a classy Christmas color combination. Hang long threads of the ribbon in alternating colors from the top of a pantry door or affix them in a crisscross pattern along the length of the door. When you print a new holiday photo or receive a photo card in the mail, you can simply attach the photo to a spot on the ribbons with double-sided foam tape.
As a platform for your photo collage, make a cool corkboard by enveloping a piece of corkboard with a fancy frame. You can purchase a roll of cork at your local arts and crafts store. You may need to layer it if your frame is very large. Then fasten your holiday photos and photo cards haphazardly on the cork with decorative holiday-themed pushpins or double-sided tape. Too busy for craft hour? Skip the do-it-yourself corkboard frame and instead purchase a fabric-covered bulletin board at a hobby store to display your photos.
4
Photo books and scrapbooks
If you don't have much room to display holiday photos, create a photo book from an online company like Shutterfly or York Photo. Simply upload your photos, customize your photo book and then proudly display it on your coffee table so guests can flip through it when they stop by for some holiday pumpkin pie and apple cider.
With just a few supplies from the craft store, you can create a darling yet simple picture wreath where you can display your own holiday photos as well as those from friends and relatives. From the craft store, you'll need a large plastic foam wreath wheel, 3- to 4-inch-wide holiday ribbon of your choice (check the clearance bins as you get closer to the big day) and some pushpins. Wrap the ribbon around the wreath so none of the plastic foam is peeking out.
Then affix a cutting of the ribbon to the back of the wreath with pushpins to serve as a way to hang the wreath. Then, as you print your holiday photos or receive picture cards in the mail, you can attach them to the wreath in a random pattern. Hang the wreath on your fireplace hearth or a wall that needs some festive cheer.
More on holiday photos
Holiday cards for busy moms
Learn how to take great holiday photos
12 Ways to recycle Christmas cards