Sushi for vegans
Replace scallops with fried king oyster mushroom stems for a spicy vegan sushi roll that looks and tastes just like the real thing.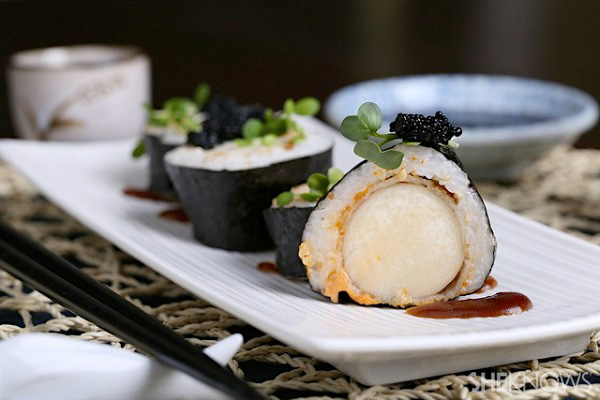 Grab those chopsticks and get ready for sushi night. If you've been missing your favorite scallop rolls, this vegan version will satisfy your sushi cravings. By soaking the mushroom stems in water, they have an authentic scallop texture.
Spicy vegan "scallop" roll recipe
Yields 4
Ingredients:
3/4 cup sushi rice, soaked for 30 minutes in cold water
1-1/2 cups water
1 tablespoon rice vinegar
1 tablespoon sugar
1/2 tablespoon salt
Vegetable or canola oil, for frying
4 straight, medium-size king oyster mushroom stems, soaked in warm water for about 1 hour
1/2 cup cornstarch
1/4 cup panko breadcrumbs
1-1/2 teaspoon Ener-G, whisked with 5 tablespoons cold water
4 tablespoons Vegenaise
1 teaspoon-1 tablespoon Sriracha sauce, to taste
4 toasted nori sheets
Sesame seeds
Soy sauce
Vegan caviar (optional)
Pea shoots or sprouts (optional)
Directions:
Rinse the soaked rice thoroughly under fresh cold water and place into a rice cooker with the water.
When the rice is ready, place the rice vinegar, sugar and salt in a large glass bowl and microwave for 10-15 seconds. Transfer the cooked rice into the glass bowl and stir well. Set aside.
Combine the panko and cornstarch in a shallow dish.
Heat the oil in a small pot over medium-high heat for about 7 minutes. (To test the oil, throw a pinch of cornstarch into it. If it sizzles immediately, you are ready to fry.)
Toss the mushroom stems in the Ener-G mixture, then roll them in the panko mixture until well coated. Tap off any excess. Fry each piece separately for about 2 minutes and place on paper towels to drain and cool.
In a small bowl combine Vegenaise and Sriracha.
To roll the sushi, spread the rice in an even layer on the nori, leaving a 1-inch border at the top edge. Place a mushroom stem in the center of the nori, then spoon some of the spicy Vegenaise mixture in a straight line next to the mushroom. Roll the nori up starting from the bottom. Slice with a very sharp knife.
Serve with soy sauce and garnish with vegan caviar and pea shoots or sprouts, if desired.
More Daily Flavor
Sweet and sticky cashew tofu
Vegan shiitake bacon
Vegan cauliflower jerky