Move over, peanut butter cups!
End your meal with a small but delicious vegan treat. Raw tahini butter chocolate cups are easy to make and even easier to eat!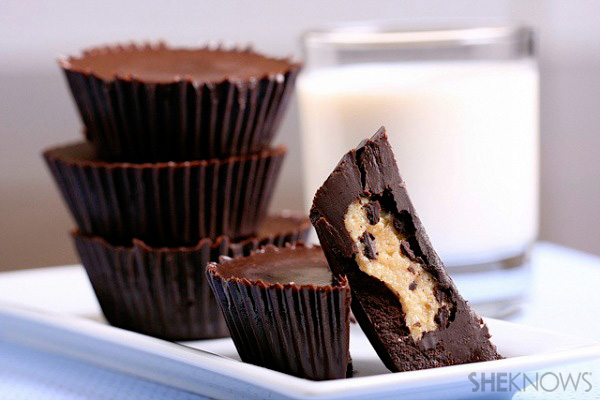 This take on peanut butter cups uses raw tahini, raw cashews and a touch of mellow miso for a sweet and salty treat that will knock your socks off.
Raw tahini butter chocolate cups recipe
Yields 4
Ingredients:
For the filling
1/4 cup raw cashews
3 tablespoons raw tahini
1/8 cup water
1-2 teaspoons mellow or chickpea miso
For the chocolate
2/3 cup virgin coconut oil, melted
2/3 cup unsweetened cocoa powder
1-4 tablespoons raw agave syrup, to taste
Directions:
Place the raw cashews into a small food processor and grind into a fine powder. Add in the tahini and water and blend until well combined. Add the miso and blend again. The mixture should be firm like peanut butter and easy to mold into a small disc in your hands.
In a small glass measuring cup, melt the coconut oil in the microwave. Whisk in the cocoa powder and agave. Pour a thin layer of the chocolate into the bottom of 4 cupcake liners. Place in the freezer for a few minutes to set
Take about 1 teaspoon of the filling and roll it into a ball. Flatten it out into a disc. Repeat until 4 discs are formed. (You may have some of extra filling leftover.)
Remove the cupcake liners from the freezer, place the disc of filling on top of each chocolate bottom, making sure a thin ring of chocolate is still exposed around the edges. Pour the chocolate mixture on top to completely cover the filling. The tops should be smooth with chocolate.
Place in the freezer for 8-10 more minutes to set. Remove from freezer about 10-15 minutes before serving.
NOTE
Miso is perishable, so store the cups in the refrigerator unless you are serving them immediately.
More Daily Flavor
Vegan cherry chocolate ice cream
Vegan coconut ice cream
Vegan chocolate-covered habanero peanut brittle