One Bite Is All You Need
Kids and adults alike will go crazy over a tray of these adorable and delicious mini caramel apple bites!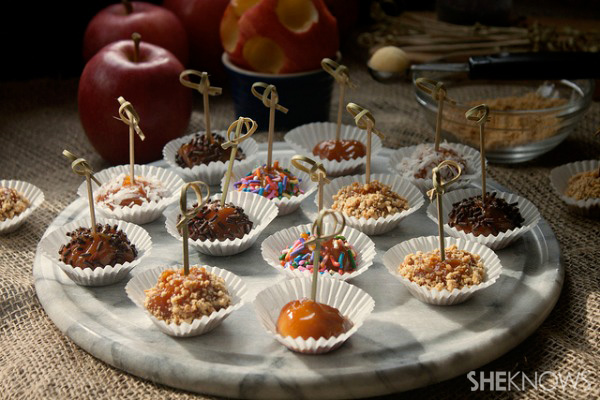 Photographed here, we show crushed peanuts, assorted sprinkles and sweetened coconut flakes, but so many toppings come to mind! Crushed pretzels, crackers, mini M&M's... and the list goes on! Adding kosher or sea salt to the melted caramel gives it that addicting salted caramel taste we love, but the salt is optional! You'll have so much fun with these, we promise.
Mini-caramel apple bite recipe
Ingredients:
2 large apples, skin left on, washed and dried
11 ounces caramels, removed from wrappers (or melting caramels)
3 tablespoons heavy cream
Pinch of kosher or sea salt
Unsalted peanuts (crushed into fine pieces or pulsed in mini food processor)
Chocolate sprinkles
Rainbow sprinkles
Sweetened coconut flakes
What you'll need
Melon baller
Small bowls or ramekins for your toppings
Silicone spatula
Mini cupcake wrappers
Double boiler (or simply a pot with water and glass bowl that fits on top)
Toothpicks, twigs or pretzel sticks (festive bamboo toothpicks shown here, cut in half)
Chopstick, bamboo skewer or cocktail garnish skewer
Directions:
Melt caramels down, stirring often, in a double boiler or glass bowl inserted over a pot of boiling water.
Once caramel is melted down and smooth, add cream and salt and stir to mix well. Turn down heat to lowest setting to keep warm. Since caramel is not on direct heat source, it should not burn.
Assemble your small bowls (or ramekins) and fill each with its own topping... i.e., crushed peanuts, sprinkles, coconut flakes, etc.
Place as many mini cupcake wrappers you plan to use on a flat plate (these are going to go right into the fridge, so make sure there's a space to fit the plate).
Using the melon baller, scoop out mini apple balls from your apple (they won't be perfect circles, they'll be somewhat flat on one side. That's fine, these are bite-sized treats!). The size of your apples will determine how many mini apple bites you get. One apple equals about 12-16 bites.
Now using your chopstick or skewer, pierce the rounded side of one apple bite and carefully dip it into the warm caramel, rolling and using a silicone spatula to help in the shaping. You'll want to coat the entire apple bite with caramel but try not to load it on too thick.
Working fast, dip the flat end of the now coated caramel bite into one of your bowls with the toppings. Coat the entire bite with the topping.
Place coated caramel apple bite into one of the mini cupcakes wrappers. Carefully remove the chopstick or skewer and insert festive toothpick.
Continue this process until all caramel apple bites are finished. Place plate in the fridge and allow the bites to set, 20 minutes to overnight. Serve.
TIP
You may notice with some of your caramel apple bites, the caramel settles a bit in the bottom of the cupcake wrapper. What's nice about using the wrappers, is that you can easily push the pliable caramel back up over the apple bite by gently squeezing the wrapper up.
More Halloween recipes
Tasty Halloween-themed drinks
How to make a graveyard cake
Spooky Halloween treats