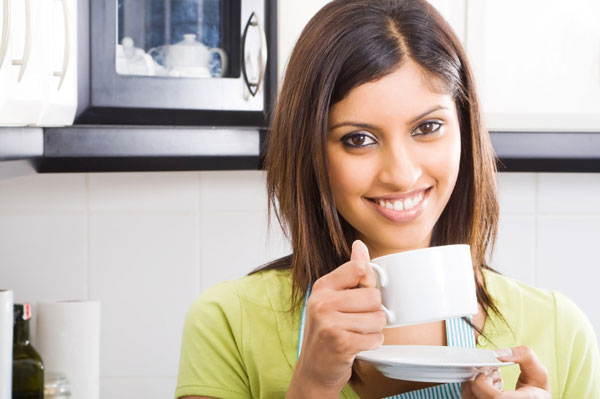 Spice up your
life with tea
Tea is not only delicious, but it has numerous health benefits. If you've never been a tea drinker, we invite you to introduce tea into your daily routine.
Instead of brewing a pot of coffee in the a.m., try a steaming mug of a rich-flavored, full-bodied tea such as a British blend or English Breakfast. Mix in milk and a bit of sugar or natural agave nectar for a sweet and indulgent morning sip.
Green tea is known to make one feel full. If you sip some before a meal, you're less likely to overindulge at mealtime. Try a refreshing fruit blend over ice paired with a salad for a yummy and healthy lunch.
If you're looking to lose a little weight but can't seem to kick your cravings, tea can help! Instead of reaching for a bag of chips when a snack attack hits, pour yourself a cup of green tea. Tea has so few calories per serving that you can gulp it guilt free.
4
Kick the midafternoon slump
When you hit that afternoon dead spot (you know, about an hour after you return to your desk from your lunch break), tea can be the perfect pick-me-up. Savor a spot of Tetley Black & Green to blast through that midafternoon slump and feel your brain perk up again.
When you're having a stressful day, there's not much better than a hot cup of tea to help you calm your nerves. We don't mean down a mug of it while you type away on the keyboard  – there's nothing calming about that! We mean take a minute to really relax. Make yourself a cup, then sit back and take a break. Let the steam warm your face, breathe in the aroma and enjoy the feel of the warm cup in your hands. By the time that first sip crosses your lips, you'll be on your way to a better state of mind.
Having a soothing mug of hot tea before bed is a relaxing way to wind down from the hustle and bustle of yet another busy day. To calm anxiety, try tea with chamomile. Tea with peppermint extracts can also help relax you before bedtime and can even help boost immunity. So if you feel a winter cold coming on, start brewing up some peppermint-infused tea — stat! Before you start sipping away at bedtime, however, double-check that the tea you prepare is caffeine free.
In case you haven't heard, soda is all kinds of bad for you, but we know that drinking water can sometimes get a little boring. Tea is the perfect solution. After all, it is natural, healthy, low calorie and delicious. What more do you need to convince you to give tea a try?
More on tea
5 Benefits of drinking tea
High-antioxidant teas
Tea 101: Types of tea and their health benefits