Fiery meat-free wings
No chicken here! These hot and spicy vegan Buffalo wings are made with soy curls, deep-fried and tossed in a fiery Sriracha glaze.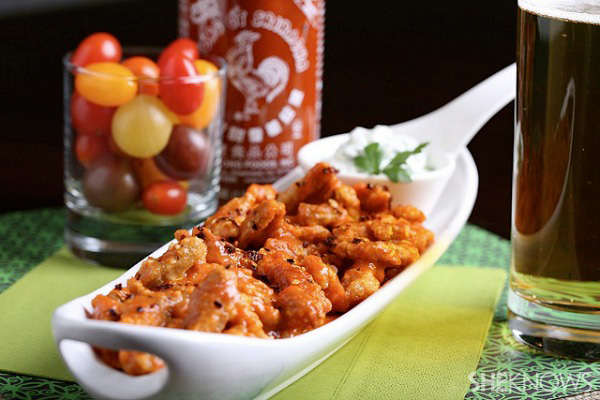 You won't be able to stop eating these spicy bites, but you might want to cool things off with the creamy dipping sauce (and maybe a pint of beer!).
Sriracha vegan Buffalo wings recipe
Serves 2
Ingredients:
For the wings
1 cup Butler Soy Curls
1-1/2 cup Imagine brand No-Chicken broth
4-5 cloves garlic, smashed
1 teaspoon salt
Vegetable oil, for frying
1 cup cornstarch, placed into a large and shallow bowl
1/2 teaspoon Ener-G whisked with 5 tablespoons cold water, placed into another large and shallow bowl
For the creamy sauce
1/3 cup Vegenaise
1/3 cup fresh chopped parsley
1 teaspoon garlic powder
For the hot sauce glaze
1/2 cup Earth Balance, melted
1-1/2 cups Sriracha sauce
Directions:
In a small saucepan over medium heat, add the soy curls, broth, smashed garlic and salt. Bring to a low boil, then turn the heat off. Let the soy curls sit in the hot liquid for about 10 minutes.
Drain the soy curls in a fine mesh strainer. Place the drained soy curls on a towel and cover with another towel. Place a heavy pan or pot on top of the soy curls to get some of the moisture out, about 10 minutes.
In another saucepan over medium-high heat, add about 5 inches of vegetable oil.
While the oil is heating, prepare your creamy sauce by whisking together the Vegenaise, parsley and garlic powder together. Set aside.
When the oil is hot, place the soy curls into the Ener-G mixture, then toss them into the cornstarch, tapping off any excess.
Working in small batches, gently drop them into the oil, piece by piece, being careful not to overcrowd the pan. Fry for 3-4 minutes, then remove them from the oil using a skimmer. Place them onto paper towels to drain. Repeat the process until all of the soy curls are fried.
In another large skillet over medium-low heat, melt the Earth Balance. Add the Sriracha and stir. Toss in the fried soy curls and stir until well coated. If needed, add a bit more Earth Balance and Sriracha to cover all of the pieces.
When the soy curls are warmed through and thoroughly coated in the hot sauce, serve immediately with the creamy sauce on the side.
More Daily Flavor
Vegan queso blanco
Spicy vegan sausage
Vegan cauliflower jerky