Hot and spicy vegan tacos
Buffalo spice isn't just for chicken wings. This easy slow cooker Buffalo chickpea taco filling will knock your socks off.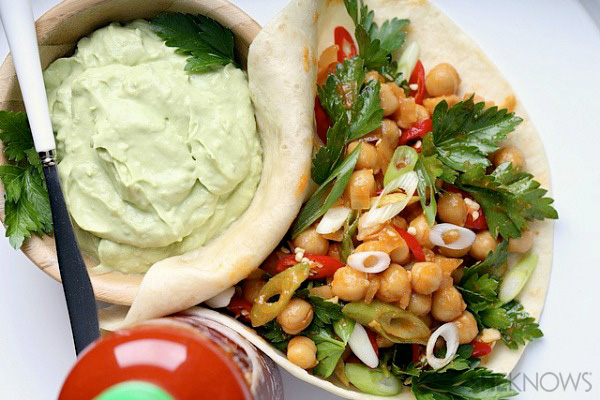 You'll want plenty of avocado sour cream to cool off the heat from these spicy tacos. Serve these on game day for a vegan menu option.
Buffalo chickpea soft tacos with avocado sour cream recipe
Serves 2-3
Ingredients:
For the filling
1 (15 ounce) can chickpeas, drained and rinsed
1/4 cup Sriracha sauce
1 tablespoon Earth Balance
1 small yellow onion, chopped
1 tablespoon toasted sesame oil
1 tablespoon minced garlic
1/2 cup vegetable broth
For the avocado sour cream
1 ripe avocado
1/4 cup Tofutti sour cream
1 tablespoon rice vinegar
Salt, to taste
For serving
Flour tortillas
Flat-leaf parsley, chopped
Green onions, chopped
Thai chilies or jalapeños, chopped (optional)
Directions:
For the filling
Place all of the filling ingredients into a slow cooker and stir to combine.
Cook on low for about 3 hours, then increase the heat to high for one more hour.
For the avocado sour cream
Mash the avocado until smooth, then stir in the sour cream, vinegar and salt. Refrigerate until ready to use.
To serve
When ready to serve, soften the tortillas by steaming in a bamboo steamer, heating in the microwave or on the stovetop.
Stir the parsley, green onions and hot peppers into the chickpea filling.
Spoon the filling into the warm tortillas. Serve immediately with the chilled avocado sour cream.
More Daily Flavor
Vegan shiitake bacon
Vegan port wine cheese
Spicy vegan sausage