Cheese for vegans
You'll be surprised at how rich and creamy this nondairy cheese is! These vegan port wine cheese balls are the perfect texture and packed with flavor.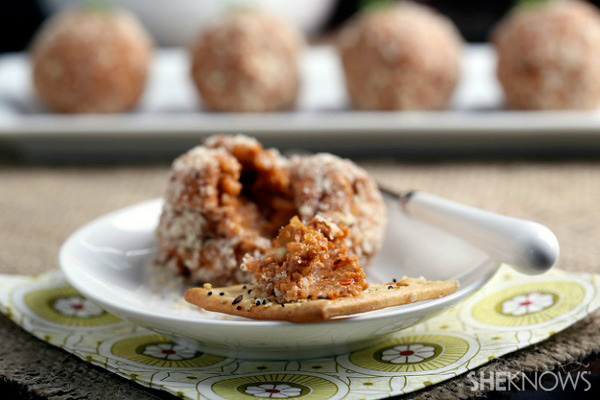 By using quinoa, nuts and tahini, this cheese is creamy and spreadable. Serve it with crackers or bread for a delicious appetizer.
Vegan port wine cheese recipe
Makes 2 large or 4 small cheese balls
Ingredients:
1 cup vegetable broth
1/2 cup quinoa
1 cup raw cashews
10 ounces jarred roasted red peppers
3 tablespoons port wine
1/3 cup nutritional yeast
3 tablespoons raw tahini
1/2 teaspoon salt
1 cup walnuts, roughly crushed
3/4 cup almonds, crushed into a fine powder
Directions:
To make the quinoa, place the broth into a small saucepan over medium heat and bring to a boil.
While you wait for the broth to boil, place the quinoa into a fine-mesh strainer and rinse well under cold water. Transfer the rinsed quinoa to a medium-sized skillet over medium-low heat. Toast for a few minutes.
Once your broth is at a low boil, add the quinoa into the broth, stir and cover with a tight lid. Reduce the heat to low and simmer for 15-20 minutes, until the broth is fully absorbed. Set aside to cool.
Place the raw cashews into a food processor and grind to a fine powder. Add the roasted red peppers and port wine. Pulse until fully combined. Add the nutritional yeast, tahini and salt, then pulse again. Transfer to a medium-sized bowl and stir in the crushed walnuts and cooled quinoa.
Place mixture in the freezer for about an hour firm up. When firm, form two large cheese balls or four small cheese balls. Store in the refrigerator.
To serve, set out at room temperature for 45 minutes before rolling the cheese balls in crushed almonds.
NotE
This mixture can alternatively be served as a cheesy spread. Just place it directly into the refrigerator after combining, no need to freeze.
More Daily Flavor
Spicy vegan sausage
Vegan shiitake bacon
Vegan spicy pumpkin soup