Meatless bacon
With its smoky flavor and chewy, crispy texture, this vegan shiitake mushroom bacon might just win over meat-eaters.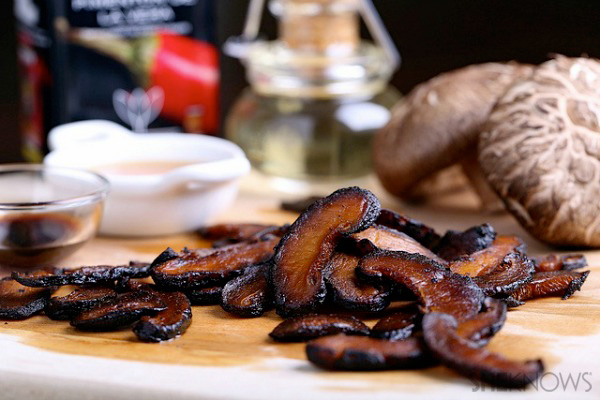 Use shiitake bacon on your breakfast plate, on sandwiches or just as a delicious chewy snack.
Vegan shiitake bacon recipe
Makes about 2 cups
Ingredients:
1 tablespoon olive oil
1/4 teaspoon salt
3/4 teaspoon liquid smoke
1 teaspoon sesame oil
1/2 teaspoon smoked paprika (optional)
2 cups thinly sliced shiitake mushroom caps
Directions:
Preheat oven to 350 degrees F. Place a Silpat on a baking sheet.
In a shallow glass dish or bowl, whisk together the olive oil, salt, liquid smoke, sesame oil and smoked paprika, if using.
Add in the sliced shiitakes and stir gently to combine. Marinate for 20 minutes to an hour.
Place the shiitakes in a single layer on the Silpat. Bake for 10 minutes, flip, then bake for 15 minutes longer. Increase the heat to 375 degrees F, then bake for 10 minutes more. Flip one more time, then finish baking for 10 minutes.
Remove from the oven and place on paper towels to drain. As they drain, the edges will become crispy. Serve immediately.
NOTE
Baking times will differ based on your oven and the thickness and type of shiitakes you are using. During the last 20 minutes of baking, keep a close eye on them to ensure they don't burn.
More Daily Flavor
Vegan farro "crab" cakes
Vegan cauliflower jerky
Sriracha peanut butter tofu