No seafood here!
Although there is no crab in these vegan farro "crab" cakes, they have all the flavor and texture of the real thing.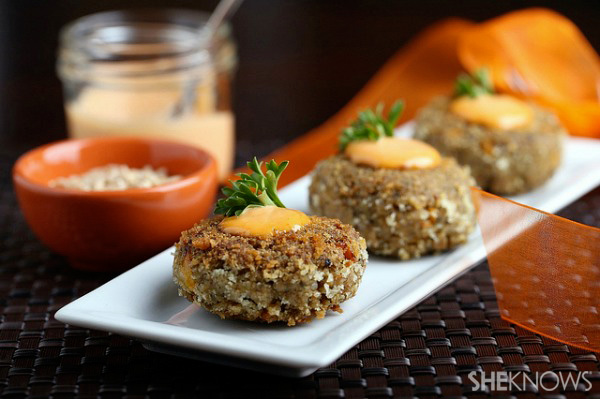 Whip up these delicious bites for an appetizer or light meal. With Old Bay seasoning and a flaky texture, you won't miss the crab at all!
Vegan farro "crab" cakes recipe
Yields 12
Ingredients:
1 cup farro
3 cups vegetable broth
1/4 cup minced shallots
1 sheet of toasted nori, crushed into a powder
1 teaspoon Old Bay seasoning
1 teaspoon dried dill
1-2 teaspoons Sriracha sauce
2 teaspoons capers, plus 2 teaspoons of the brine
8 Ritz crackers, crushed
1-1/2 teaspoons Ener-G, whisked with 2 tablespoons water
1 teaspoon baking powder
1-1/2 tablespoons raw tahini
1/4 cup chopped red or orange bell pepper
1/3 cup panko breadcrumbs
Olive oil
For serving
1/8 cup Sriracha sauce mixed with 1/8 cup Vegenaise AND/OR 1 teaspoon dried dill mixed with 1/3 cup Vegenaise
Directions:
Rinse the farro with water in a sieve, then transfer to a medium pot. Add the broth, bring to a boil, then cover and reduce to a low simmer for about 25 minutes. Check the farro after 20 minutes — it should be slightly chewy and expanded to twice its size. Continue to simmer for an additional 5 minutes if needed, then drain any extra broth and allow it to cool.
Transfer the farro to a food processor and pulse just a few times, leaving it a little chunky. Transfer to a medium bowl.
Add the shallots, crushed nori, Old Bay seasoning, dried dill, Sriracha, capers and brine, crackers, Ener-G, baking powder and tahini to the food processor. Pulse until combined, then transfer to the bowl with the farro. Fold in the bell pepper and stir to combine. Place the farro mixture in the refrigerator for at least an hour.
When you are ready to make the cakes, divide the mixture in half, then divide each half into six equal portions. Roll each portion into a ball, then flatten between your palms.
Press each cake into the panko, shaking off any excess.
Heat a skillet over medium heat. Add about 1 tablespoon olive oil and fry the cakes on each side until golden brown. Serve immediately with one of both sauces.
More Daily Flavor
Vegan cauliflower jerky
Sriracha peanut butter tofu
Vegan coconut ice cream